Jayanthi - rock climber, foodie, advocates gender equality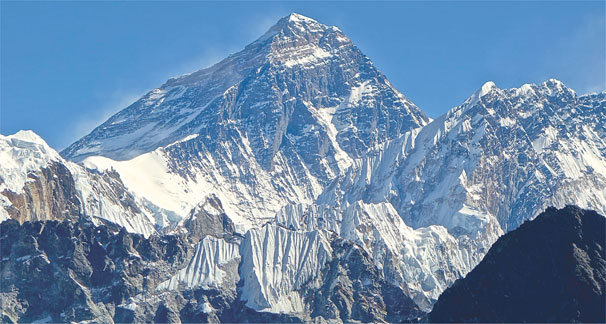 Sri Lankans are known for their cricket prowess, their achievements in Olympian athletics and, even billiards at one time, but, in a country in which the highest point is just over 8,000 feet above sea level and no history of mountaineering, who would have expected a world class alpine mountaineering duo to emerge? With no prior fanfare, Jayanthi Kuru-Utumpala and Johann Peries literally burst on to the national stage with their conquest of the world's highest peak, Mount Everest.
What made these two Sri Lankans dream of such heights of achievement? By now, our readers know of their great mountaineering adventure and, are beginning to learn of the immense physical and mental challenges they surmounted in their historic mission to be the first Sri Lankans to reach 29,028 feet or 8,850 metres above sea level.
Who are Jayanthi and Johann as persons, as ordinary Sri Lankans leading lives just as other Sri Lankans do?
The Sunday Observer, which first broke the news of their planned mission to Everest and reported their difficult progress through the towering Himalayan ranges, and their final triumph, last week met up with the duo personally to introduce them better to our readers as young Sri Lankans with dreams and the vigour to achieve them.
Jayanthi Kuru-Utumpala is an independent young professional who has worked as a journalist briefly before moving on to research and advocacy on social issues close to her heart. Also close to her heart is the great outdoors and much of this island's mountain peaks have been explored and climbed by this small-made, slim but muscular young woman. Jayanthi is equally at home among steep, rocky cliffs and, as an advocacy professional, in the meeting rooms of international organisations, including the United Nations.
Tell us about your childhood - the schools you went to and your childhood ...
As a child I loved sports. I have an older brother and I used to do everything he did. If he climbed a tree I also would do that. We built tree house, played cricket like normal kids. I went to Bishop's College and I took part in quite a lot of sport when I was schooling. I played tennis for my school.
How supportive are your parents of your adventurous life?
My father passed away two years ago. He worked for a private firm. He was a major inspiration for me. He allowed me to do adventure sports. My mother was working before she had us but later she gave up on her job and was fully committed to our upringing.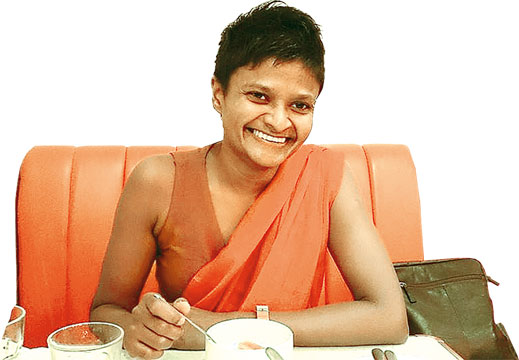 They are quite supportive, be it my work or adventure sports. There is a lot of danger and risks involved in the sports I am doing. For example, white water rafting, rock climbing. Mom was worried. But dad let me do it. They did not block my desire to do adventure sports and they allowed me to be me for which I am forever grateful.
Do you have any siblings?
Yes, I have an elder brother. He works as senior marketing manager in the corporate sector.
What is your profession?
I am working in the field of gender equality. I am involved in projects to raise awareness on violence against women. I worked for the Women and Media Collective for ten years. I learnt so much during that period. Then I worked at CARE International and continued doing the same kind of work thereafter. Previously, I was a journalist for some time.
You talk about gender equality. What exactly you mean by that?
There are barriers faced by women. Those are mostly rules imposed by society. They expect women to do certain jobs, engage in certain sports and behave in a certain way. When I say 'gender equality' what I mean is that despite one's gender, anyone should be able to do anything they want. I am working to achieve that equality. And I hope that more women will take part in adventure sports.
What are your hobbies?
I like travelling. I like the beach quite a bit. Getting out of Colombo and heading south is one of my favourite things to do whenever I have free time. I also like to try new food, various food cultures. I am particularly fond of Sri Lankan cuisine. I like cooking as well, which I do on and off.
With all this, do you have time for books?
Yes, I am interested in reading books. I read books in my free time. I am particularly fond of comic novels and graphic novels.
Music? What type do you listen to?
I like quite a range of music - mostly songs of the 1950s, 60s and 80s. I love music from that era a lot. But I am not much into rock music and hard core heavy metal.
What are your favourite movies? Can you name a few? Why those in particular?
I like "based on true story" kind of movies. Movies like Billy Elliot, Flashdance are among my favourites. I like musicals as well, especially Brent, Chicago.
What do you do in your leisure time?
I go cycling with friends and other times I would like to just sit at home read a book, watch a movie to relax. I do hangout with my friends whenever I am free. That is something I really enjoy.
How do you start your average day? Is there a specific time you usually wake up?
I am actually not a 'morning person'. For sports I don't mind waking up early. Usually I wake up around 6.30 a.m., then go cycling and after having breakfast I am off to work by 8.30.
Did you see the cartoon Amantha Attygalle drew? How did you like it? Your thoughts on that?
I was actually overwhelmed. I love his work anyways. I think he is one of the best cartoonists we have in the country. Gender is not a barrier. I think that is what he was trying to say. I took it all positively. I read it positively. I do not know how other people interpreted it. But I am glad to be a cartoon of his.
You have broken all stereotypes. How do you feel about that? Do you think people are now more open minded and ready to accept this kind of achievement by women?
Well, I would not say that people's attitudes have changed completely. But their way of thinking is changing and there is a lot of hope. The responses we got since we came back are very encouraging. People congratulated us and were truly happy for our achievement. They did not care what my gender is. People accepted me for who I am. I wish to see more hope, respect and space for women especially in sports. This is a good thing.
What causes do you support/wish to support?
The main cause of which I have been a part is Women's Rights. Other than that I also support gender equality and I campaign against violence against women as well. A lot of work is yet to be done with regard to all these social issues.
What is your next adventure? Have you thought about it?
Well, not really. We have not thought of anything like that yet. We need some time off and then may be in another year or two we will possibly go back to the Himalayas or some other mountain. But for the time being no plans as yet.
How would you like to be remembered as? Other than as the first Sri Lankan to summit Mount Everest)
I want to be remembered as a person who lived and followed her dream I want to be an inspiration for others. I believe that if you have a dream, you should make that true by working hard towards it. And if you put your mind to it anyone can do anything. It is in the mind really. It is a mind game. If you have a strong mind then achieving what you want in life is not difficult. It's something I learnt and practiced during this expedition as well. You have no idea what so much of positive thinking can do. Also team work is something you should practice.