Johann - mountaineer, hair craftsman, champion dancer: 'I like to cook'
Johann Peries is tall, graceful and he should be, given that he is an accomplished dancer and dancing teacher. He is also an artist - of hair and body beauty, successfully making a business of it, His love of jazz together with his profession draws him close to the fashion and flair of showbiz, a far cry from the jagged cliffs of the Himalayas. But, like Jayanthi, his love of adventure and the mountains has taken him as far Mount Kilimanjaro, the second highest peak of the African continent before he reached the even greater height of Mt. Everest.
Johann, tell us about a bit about your childhood, the school you went to and your growing up?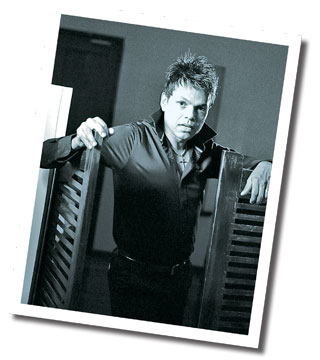 My school is St. Joseph's College. Talking about my childhood, well, I think I had one of the best experiences in my childhood we used to go on trips especially adventurous ones. My father in particular was so much in to that type of stuff. I think from that I got the interest. And he is the one who passed that passion onto me. We went camping and climbing from our small days. And then when I left school, I had a group of friends and we went all over the country. I think the interest has always been there.
How supportive are your parents? What are their professions?
My father is in the Father engineering field and my mother is a housewife. I am blessed to have very open minded parents. They supported everything i did. When I chose my career as a hair dresser they were very supportive of it. Likewise when I wanted to do mountain climbing they always encouraged me and let me do things I enjoy doing.
Do you have any siblings?
Yes, I have an elder brother and a sister. Brother is an entrepreneur and has pharmaceutical business. My sister was a banker and now working with me. She is helping me with my business and handling my accounts
What is your profession?
I am professional hair dresser and a makeup artist. I have my own business which goes under the name, 'Cutting Station'.
Tell us about your hobbies?
I was a singer and I am a professional dancer. I have mastered Latin, ballroom and contemporary dancing styles. I took part in international competitions as well. I still perform.
Do you enjoy music? What type of music do you listen to?
Yes, I do. I enjoy classical and jazz music. I have always liked that type of music. It's kind of relaxation, getaway for me. Because of the lifestyle I lead I am not much in to rock and heavy metal.
What type of movies you like? Why those in particular?
I like romantic movies. Movies based on true stories and thrillers as well. I am not much in to fiction.
Do you read books?
I do read books but I'm not much of a heavy reader because of the time factors. I read a lot of books with regard to my career fashion and trends to keep up with the fashion industry
Your favourite cuisine?
I like fusion cooking. And I like to try various food. I try to change things around. I like meat, sea food. I do cook as well. I love cooking. It is something I enjoy doing when I have free time. I find that as a form of relaxation
How do you spend your leisure time?
I usually travel a lot. I like to go places. Especially to places places where there are not much people. I spend a lot of time with people because of my career. So I prefer to spend my leisure time away from busy lifestyle and people.
What's the routine like on a normal day? Is there a specific time you wake up?
I am an early riser. I wake up by 5 a.m. I do my exercise; have my breakfast and then straight to work. On a normal day, my day ends at like 7 pm. I like to work long hours.
What causes do you support/wish to support?
I have been supporting Alzheimer's foundation. Other than that I try my best to help kids as well. I am a foster father. That is something private and something I really enjoy.
Have you planned your next adventure? What type of an adventure would it be?
We are not planning to do anything like that soon. Because we need a break. Climbing Mount Everest was not an easy task. It was challenging both mentally and physically. So all what we want to do now is to relax. Hopefully by end of this year we would think of another adventure.
How would you like to be remembered as? (Other than as the first Sri Lankans to summit Mount Everest)
I would like to be remembered as I am. A fun loving easy going person. Conquering mountain was not actually about the fame really. It was our passion which I had within me. It was not done for the fame. I would also like to be remembered as a person who followed his dreams.