INTERVIEW
A Lucky Break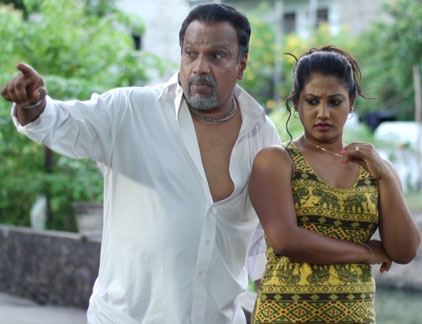 Lucky Dias, a most popular Sri Lankan cinema and teledrama actor, producer and director is going to release his latest teledrama "Seethala Ginidal" on Rupavahini. It is a 100 episodes teledrama which will be telecast from June 7, 2016. Lucky Dias and Sriyantha Mendis come together on screen for the first time in history. The Sunday Observer spoke to Lucky Dias about his teledrama, achievements and on the present situation of the teledrama industry in Sri Lanka.
Excerpts:
What made you direct the teledrama "Seethala Ginidel" (The Cold War)?
I found the story for "Seethala Ginidel" from one of my assistants, Kapila Kumara Samarakoon. I was rewarded for my good work and I am very much thankful for the Rupavahini Corporation for taking it over. We are starting this 100 episode teledrama on June 7 and will telecast it daily at 7.30 pm.
What is "Seethala Ginidel"?
There are two main male characters who have taken on the role of thugs since 20 years ago. One is Dharmawardena, played by Sriyantha Mendis and the other Newton played by me. Shriyantha and I have won awards continuously in the industry but unfortunately we have not got an opportunity to be cast together. This is the first time in the history of our career that we are acting together. I took the chance to cast Shriyantha opposite me. He portrays the affluent rich businessman while my role is a guy from the slums.
The story opens with the episode where Newton enters. He is being pardoned from a lifetime jail sentence by the authorities for his good behaviour in jail and also through the influence of a powerful person. Newton's 20 year life sentence in jail ends with the opening of the teledrama. He tries to avenge his partner who was the reason behind his misery. Newton demands his share of the loot from a theft that they had undertaken, but Dharmawardena refuses it. There begins a head-on clash between the two. There are young lovers, mothers looking after their children to bring them up in situations of poverty and many more elements in society that are depicted in this story.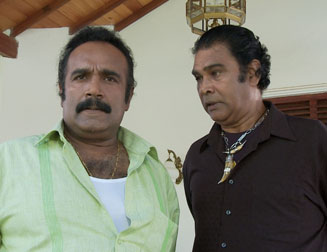 What about the cast and the crew?
I have a brilliant script for the play. It means half of my job is done. I have cast the right persons in the right roles. I have moulded these two together and created a brilliant story which the public will like. I have always been rewarded at the end of my work. I have chosen the right actors whether it's the newcomers, seniors or the most popular.
They have performed well and been rewarded too. The public has always claimed that whenever there is a Lucky Dias's production or a play, they have always been satisfied. Kapila Kumara Samarakoon who has been my assistant wrote the script. I am proud that he is a director now. He worked with me for eight years.
Tell me about your latest movie "Breaking News"?
My latest movie "Breaking News" is a big milestone in my career. I have produced about six films which have won Sarasaviya and Presidential awards but this is one milestone in my life. This movie has two most popular comedy actors from the industry. Wijaya Nandasiri and Mahendra Perera considered as kings of comedy in the Sri Lankan cinema play the main roles.
I also play a key role in the film. People will see me in a very different get up as for the first time I am going to completely shave off my beard. I am playing a police officer's role. The story is a situational comedy and not the mundane kind of comedy like slipping and falling and making faces. 'Yes boss' was done by Wijaya Nandasiri and me which is even enjoyed today. We have a good record of doing this comedy. I have faith in my audience who has never let me down over the past two and a half decades. I am keeping my fingers crossed that people will love what I am giving them.
What kind of exposure did you get from the film industry?
Like most of the actors in Sri Lanka, I was not trying hard to achieve the best. I never even dreamt of joining the film industry. My career was advertising. I was moulded by the great advertising man who later became the speaker of parliament, Dr. Ananda Tissa de Alwis. He was my guru and mentor.
He trained me and I have great respect for him. During my school days, I was a musician, band leader in a leading band in Sri Lanka called the 'Fireflies and the sound waves.' I needed to give up my music career as the acting career was more rewarding and thrilling. I became a household name with my first appearance as 'Baladeva' in Yashoravaya. The stardom really got on to me. I was recognised as one of the top actors in the country with my first appearance.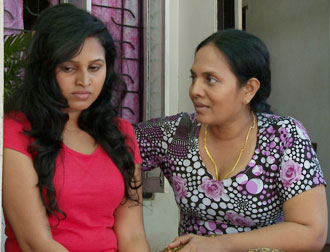 What do you feel about telecasting on Rupavahini?
I am really thrilled and very thankful to Rupavahini for airing me after a long time. I was really honoured at Rupavahini and they appreciated my teledrama. I am totally against the invasion of the Korean and Indian dramas in our channels. We are virtually prostituting ourselves by killing our Sinhala industry and letting in the International tele dramas coming into our channels on a daily basis. It is a shame to say that our people hero-worship them. From the time of Gamini Fonseka and Vijaya Kumaratunga, people were lining up the streets to have one glimpse of those great artistes. We were fans of our senior actors but now the situation has changed.
Most of the young boys and girls hero-worship the Korean and the Indian actors.
The newcomers to the teledrama industry in Sri Lanka are so shabbily treated and the public do not even know their names.
It is a shame and a pathetic situation prevailing in Sri Lanka today. The foreign teledramas have invaded our channels and we have allowed them to.
The Indian actors are more recognised by the people in Sri Lanka than the Sri Lankan actors. Nowhere in the history of any country have they let actors of other countries override their industry at the cost of destroying their own industry. Some channel heads in Sri Lanka are allowing this to happen.
The authorities don't seem to give a damn about it. The channels are allowed to import outside products and there is no law. This is the sad plight that the local teledrama industry has fallen into today.