DRAMA Review
Dreaming against unseen odds
A review of the play Adaraneeya Vedilla
On May 14, Anil K. Wijesinghe brought to life on the boards at the New Town Hall theatre Adaraneeya Vedilla. This stage play which was scripted and directed by Wijesinghe dwells into a scenario set in the underbelly of society where crime and immorality is deemed mundane. The story unfolds in a slum where amidst raucous interplay between family, friends and passersby a young girl much sheltered in her upbringing discovers the awakening of love on a moonlit night when a young hoodlum escaping the long arm of the law dives into her parent's shanty to save himself.
The storyline in Adaraneeya Vedilla is one that seeks to give insight to the drudgeries of the shanty folk who are part and parcel of today's urban demography while also showing how the world of crime and danger is somewhat an inescapable and perhaps even an inevitable shadow that overcasts their chances of finding happiness. The tragic end that befalls the young lovers indicates that to those who were compelled to find their daily bread through a life of crime, very little redemption can actually be hoped for.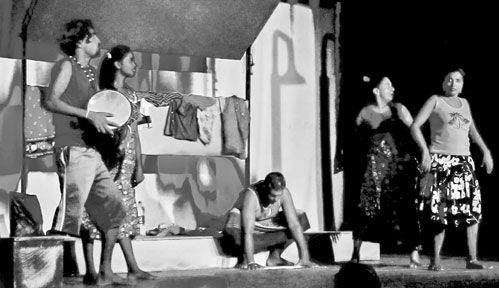 The story has been conceived to bring out a significant facet of the world of the slums in relation to how their young and old view themselves with respect to the interests that shape their generations. It is interesting to note how pop culture Hindi cinema and the iconic screen stars of Bollywood are talked about in raptures and their names adopted to refer to personae in the slum neighbourhood itself.
The strong drive for escapism among the younger characters in this story shows how great a place mass entertainment holds in their minds to allow fantasies that transport them beyond their sordid reality.
On the matter of dialogue delivery there were a few slipups from some players once or twice. however it must be noted for the record that it was the very first performance of the play that I happened to watch - the 3.30pm show; and opening night jitters, sometimes (as I have seen) creep over even some of the very best of thespians.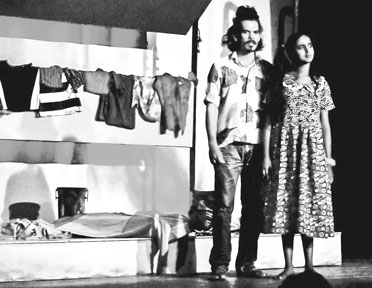 When observing the players on stage that afternoon there is no denying the vein and enthusiasm for lively performance pervaded among the cast, which was composed of - Roshan Polwattage, Mindula Mohottige, Dharmasiri Gamage, Vishakha Jayaweera, Namal Surendra, Shehara Sachindri, Lakmini Thilakarathna, Daminda Nandarathna, Kaumadi, Sanjaya, and Isuru.
This play offers a glimpse into the world of today's less fortunate who live with a host of dreams and fantasies played off the grim and often fleeting possibilities bound to the streets and slums. Sometimes there hopes and dreams are pitifully fated to fade in the very quagmire they dared to be born in.
And thus declare that to some of them, tragedy is their inescapable inheritance.