Lankans have not lost at Lordís for 25 years
LONDON: There was so much consternation when Sri Lanka didnít play their opening match of the three-Test series against England at Lordís on the current tour They were thrown into the deep end of the coldest part of England in the north where they perished losing at Leeds and at Durham to make the third and final Test which begins at Lordís on June 9 of academic interest as England have already pocketed the series by taking a winning 2-0 lead. Ever since Sri Lanka began playing a series of Tests in England in 2002 they have always started off with the first Test Lordís and eventually it has turned out to be a high scoring draw.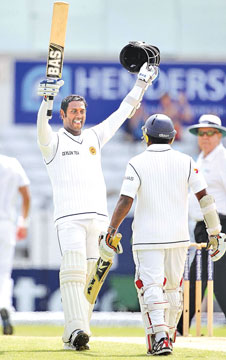 In 2006 and in 2014 Lordís was the venue for the first Test of the series, the only exception being 2011 when it hosted the second Test. But never has Lordís staged a Sri Lanka Test at the end of a series as it is the case on the present tour. It was easy to understand why England wanted Sri Lanka to play away from Lordís till the final Test because they knew their best chance of winning
the series was at Leeds and Durham where by the time the Lankan cricketers got accustomed to the cold freezing weather and the pitches that encouraged swing and seam bowling it would be too late by then The itinerary has worked like a perfect script for England who have avenged
their 0-1 defeat by Angelo Mathewsí team two years ago. Lordís has been a favourite venue for Sri Lanka since 1984 when they made a
thunderous impact in their first ever appearance at the hallowed venue where although they did not win they gained a first innings lead of 121 and had the better of a drawn game. Sidath Wettimuny scored a magnificent 190, the highest score by anyone on his first Test appearance in England, and Sri Lanka captain Duleep Mendis raced to a hundred off 112 balls and came within six runs of making a second century.
Sri Lanka who was afforded only one-off Tests by England at that time lost at Lordís in 1988 and in 1991 but since then they have been unbeatable at this venue.
In 1998 was the only occasion they were denied a Test at Lordís when the Oval hosted the match and off-spinner Muthiah Muralitharan returned with the fifth best bowling performance in a match with figures of 16 for 220 and thereby helped his country record their maiden Test win on English soil by ten wickets. The match was also notable for Sanath Jayasuriya, the present chairman of selectors scoring an extravagant double century and Aravinda de Silva, presently the advisor for cricket affairs at Sri Lanka Cricket rubbing it into the English attack with an eye-catching knock of 152. If the performance of Sri Lankaís batsmen in the second innings of the second Test at Durham where they amassed 475 is anything to go by, then they will relish playing at Lordís again where they have rarely failed to put up a good performance.
It is the dream of any cricketer to have his name engraved on the Lordís honours board by either scoring a century or taking five wickets in an innings. The Lankans who have had the honour of doing so Sidath Wettimuny (190) in 1984 Duleep Mendis (111) 1984 Amal Silva (102 n.o.) 1984 Rumesh Ratnayake (5/69) 1991 Marvan Atapattu (185) 2002 Mahela Jayawardene (107) 2002 Mahela Jayawardene (119) 2006 Tillakaratne Dilshan (193) 2011 Kumar Sangakkara (147) 2014 Angelo Mathews (102) 2014