Young artist influenced by Michelangelo and Rembrandt :
Landscapes and figures, Asanka's favourites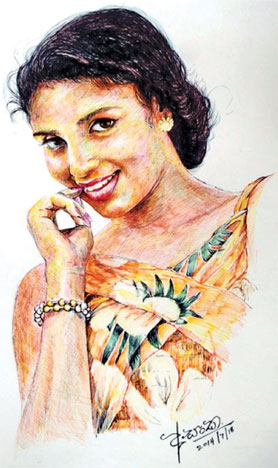 Sanjaya is a student of the University of Visual and Performing Arts and is influenced by Michelangelo and Rembrandt. He studied art for his Advanced Level and his parents encouraged him to draw from a young age. He likes drawing both figures and landscapes and his favourite medium is oil on canvas because it enables him to highlight subtle facial expressions. He uses muted shades of brown, green, blue, yellow and red in his paintings.
Asanka was accompanied his grandmother on many outings and his constant request was for painting sticks and drawing books. Since this little boy was crying for paintings she had bought what he wanted to keep him under control. Thus, he got the support he wanted to paint pictures.
When Asanka began schooling the teachers, especially those teaching advanced level students encouraged him.
Though he wanted to join the Commerce Stream his mother had inspired him to join the Arts stream and to offer painting as a subject at the exam. That paved the way for him to enter the university.
Asanka's father is a mason and the mother a housewife. Asanka who also has an elder brother studied at Anuruddha Central College, Lunuwila up to his Ordinary level and later attended Dhammissara National School, Nattandiya.
He has held paintings exhibitions at the Town Hall at Nattandiya and Dhammissara National School, Nattandiya. He is also a 'regular' at the annual 'Kala Pola' organised by George Keyt Foundation.
Asanka also has a penchant for painting live portraits of wedding couples while studying murals and sculptures.