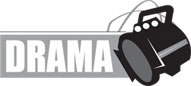 She virtually lived in their chamariya to study their role:
Kaushalya, internationally acclaimed
The year 2016 has been a year in which actress Kaushalya Fernando ( stage and screen), has seen her onscreen talent recognised with more than one accolade! After winning the award for Best Actress for her performance in the film Bora Diya Pokuna at this year's Derana Film Awards on May 14, Kaushalya's talent for the portrayal of a rural woman who comes to the industrial zone in Biyagama to work as an apparel factory sewing machine operator named Gothami, earned her international recognition on June 6, when she was awarded the accolade for Best Actress at the SAARC Film Festival. It must be noted that the very first interview Kaushalya gave to a newspaper on winning the prestigious award was to the Sunday Observer.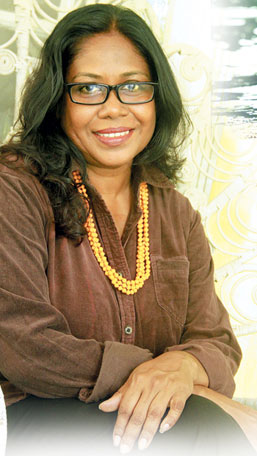 My first question to her was how did she manage to build herself into the psyche of a character to bridge the gap vastly distant from her personal urban middle class upbringing? "One's background doesn't matter in serious acting. Where you come from is irrelevant," answered Kaushalya, adding, "Sophia Loren was said to be from a very impoverished background, but she performed roles depicting the very highest echelons of western society." Kaushalya then gave an insight about the 'research' that had been part of the film project. "The director, Sathyajith Maitipe left no stone unturned and was relentless in finding sources to gain information and personal engagement opportunities with women who work in the industrial zone." I saw from the answers I received that I was in the crux of a socio-psychological research. Director Maitipe and his leading lady, committed to support him achieve this work from its scripting stage, visited professionals who provide counselling to women working in the industrial zone, to learn about their problems, as well as speaking to workers of this stratum on a very personal level. "I even stayed at some of their lodgings, commonly called a chamariya. Being with them so closely gave me a good insight into their lives. It helped me to get into this character and understand the context of their social sphere," she said.
Interactions
How were her interactions with her co-actors and their characters, I asked? "I wonder if it's wrong for me to say this, but the honest truth is I didn't actually have much of an emotional bonding with many of the other characters. I think, the main reason was because the director and I worked on the project from script development level. I had my own vision of how the story would be, and simply set out on my journey to deliver the character. However, Priyanka Samaraweera who plays the role of Suneetha depicted the image I had for the character and made me feel more emotionally connected when compared to the others." Three women came to the Biyagama zone, Kaushalya said, about the principal characters in the film. The trio are said to thematically represent -extreme austerity, hedonism and the middle path.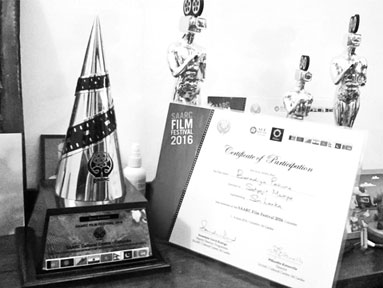 "Gothami is the severely deprived one" explained Kaushalya, who admitted that she was not happy with her performance in some scenes and felt she could have done better, although overall she says, the audience responses were overwhelming. "There were men who were teary-eyed coming out of the hall where Bora Diya Pokuna was screened as part of the SAARC film festival. They came up to me and said, how much they sympathized with the character I brought to life. There were ladies who held on to my hand and expressed how deeply they were touched by the character of Gothami and her tragic life. So when I think of these responses I think the performance was overall successful."
Competitive
About her experience of working under Maitipe's direction, Kaushalya said, "He never complimented my acting, nor did he praise me, no matter how hard I tried. Sometimes, he kept pulling me up, to be more competitive, saying how well the other actresses performed. In some instances I tried to prove to him that I could live up to what was expected of me. He knew in that sense, how to play with the psychology of an artiste to get the best output. She also spoke of Maitipe's wide knowledge about cinema and how he was very resourceful in providing her with material about screen acting and characterization.
On being awarded Best Actress at the SAARC Film Fest by an international jury, which consisted of Fabienne Agnado (France), Andrei Vasilenko (Russia) and Jinna Lee (Korea), Kaushalya said she actually wondered whether she would have a chance to win against films such as Masaan by Neeraj Ghaywan, being in the competition. A Cannes Award winning film, Masaan had won Best Film at the SAARC Film Festival and also had a brilliant actress playing the lead. "I honestly wondered whether our work delivered effectively the nuances to convey our cultural context to a foreign panel of film jurists." The answer of course now is a proven resounding 'affirmative'. Bora Diya Pokuna has delivered in no small measures.
However, the humility in Kaushalya, as an artiste who knows the journey that the film faced, being filmed nearly ten years ago, said, the climax was when the film was finally allowed to be screened and not shackled to the censor ban imposed on it for several years. She said she had been with Maitipe from the very start of the project when he first shared his idea, and went the whole nine years with him to secure funding from the Film Corporation and fought the good fight against the Censor Board when it was deemed unsuitable for public viewing. "To me, the first award for the film was won when the ban was lifted and Bora Diya Pokuna was allowed public screening. That was the essence of our film's 'triumph' if I may put it that way."
Gratifying
Kaushalya admitted that the feeling of winning the award for Best Actress, is truly gratifying. "Being appreciated for your hard work as an actress is of course a wonderful feeling.", she said in true humility, further emphasizing that it has been a long thorny road for the film to go from its production phase about ten years ago, to gain a place for itself in the stratosphere of world cinema. And one may adduce that by the looks of it, Bora Diya Pokuna will traverse further on its own journey among cinema goers and film lovers in the days ahead.