Sax solo album by Sandun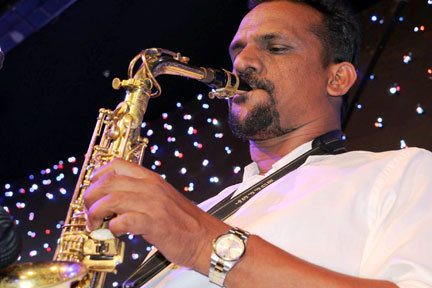 Sandun Parakum, a past pupil of St. Mary's College, Negombo, a renowned saxophonist is planning to release his maiden sax solo album soon.
The compact disc 'Sax solo by Sandun' comprises 10 original and cover versions of saxophone music of popular songs.
'I have created some of my original songs and I have already finished recording the songs. Along with popular songs they too will be included in this CD. All music arrangements and recording were done by me. The CD will be out soon on air as well as in the music stores,' said Sandun.
Sandun was a veteran sax player (Class I) and also an instructor of the Western Music Section of the Sri Lanka Army band for 22 years. After retiring from active service, Sandun continued as a solo saxophone player in various state functions and corporate gigs.
He is also a classic player of Scottish piped music instrument and he has also performed in various musical presentations in Paris. He has also followed a music course (Pipe Major Course) in India. Currently he is one of the livewires of the Colombo Wing Orchestra Band. Sandun lives in Kurunegala and can be contacted over: https://www.facebook.com/sandun.parakum and sandun parakum in YouTube.