Hillary Clinton:
History in the making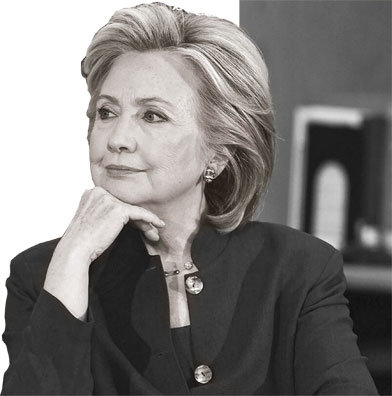 Former Secretary of State Hillary Clinton clinched the Democratic presidential nomination Tuesday night, making American history as the first woman to lead the ticket of a major political party in a national race.
Clinton's rival, Senator Bernie Sanders of Vermont, is however nowhere near to capitulating, even though he finally lost the California primary after what was, admittedly a very tough fight.
Podium
Speaking to supporters in Santa Monica towards the end of the evening while still waiting for final primary results Sanders said in a cracked voice from the podium: "The struggle continues. Next Tuesday we continue the fight in the last primary in Washington DC!" (He is under pressure from the Democratic Party leadership to 'let go, already,' so they can pull together the delegates for the fight against Donald Trump.)
In response to his fiery passion, the packed house roared, shaking and waving blue-and-white signs that read, "A Future to Believe In."
"We are going ...we are going ...we are going to fight hard ...," Sanders went on, his weakening voice making it clear that his campaign has already been anything but easy.
"We are going to fight hard to win the primary in Washington DC..." he said stubbornly, his voice hoarse from shouting, "and then we take our fight for social, economic, racial and environmental justice to Philadelphia, Pennsylvania!
But even Sanders knows the fight is almost over. His campaign managers and strategists have been discussing this issue for weeks. And he didn't survive the U.S. Senate with a halo of white locks by ignoring reality, either. He told his supporters he had called Clinton to congratulate her on her victories. Although he won the primaries in Montana and North Dakota, the California loss made it clear that time is running out.
Fight
"I am ... I am pretty good in arithmetic and I know that the fight in front of us is a very, very steep fight," he added, "but we will continue to fight for every vote and every delegate we can get," he told supporters. Both he and Hillary Clinton received calls from President Barack Obama, with congratulations to the two of them on their campaigns.
Hillary Clinton, on the other hand, was raring to go as she addressed her backers in Brooklyn, New York.
She clearly had much preparation ranging from a raft of speech writers, handlers, beauticians, hair and fashion stylists, makeup artists, media coach and PR advisers. All had coalesced for this moment.
"Thanks to you, we've reached a milestone," Clinton began in warm, measured tones.
(Applause)
"The first time ... the first time in our nation's history that a woman will be a major party's nominee," she said, nodding her head, eyes shining with just a slight glimmer of tears, hair carefully, conservatively coifed for the occasion.
Presidentially. Wisely, she wore understated makeup - for once, even her lipstick wasn't loud.
Applaud
"Tonight's ... (here she hesitated to give the audience more time to applaud longer - and they obliged, of course) tonight's victory is not about one person. It belongs to generations of women and men who struggled and sacrificed and made this moment possible.
"In our country (ed.- an unstated reference to the fact that in many other countries there have already been female heads of state) it started right here in New York, in a place called Seneca Falls, in 1824 when a small but determined group of women and men came together with the idea that women deserve equal rights and they set it forth in something called the Declaration of Sentiments - and it was the first time in human history that that kind of declaration occurred."So we all owe so much to those who came before. And tonight belongs to all of you," she smiled.
Then she raised her voice, calling for unity within the party - and yes, from Bernie Sanders too, aiming straight for the jugular.
"I want to congratulate Senator Sanders for the extraordinary campaign that he ran," she said.
Her next compliment was a direct shot designed to remind voters that he is probably too old to have really been considered a serious contender for a presidential run. It was also a quick slap at his largest support base, discrediting the youth of America with an emphasis on their lack of experience. But with all of that, she tried to heal the breach as well.
Excited
"He has spent his long career in public service fighting for progressive causes and principles and he has excited millions of voters, especially young people, and let there be no mistake - Senator Sanders, his campaign, and the vigorous debate that we've had about how to raise incomes, reduce inequality, increase upward mobility, have been very good for the Democratic Party and for America.
Then Clinton addressed "America" - hoping to grab at least some of the disillusioned GOP voters who are still praying for a reasonable alternative to the presumptive Republican presidential candidate, Donald Trump.
"This has been a hard-fought, deeply felt campaign. But whether you supported me, or Senator Sanders, or one of the Republicans, we all need to keep working toward a better, fairer, stronger America.
"Now, I know it never feels good to put your heart into a cause or a candidate you believe in and to come up short. I know that feeling well."
Lots of laughter greeted that remark.
"But as we look ahead.... as we look ahead to the battle that awaits, let's remember all that unites us.
"We are all standing under a glass ceiling right now," she said. The words were aimed right at the female voters she is hoping to grab - including those who voted for Bernie Sanders and especially those who feel disenfranchised by Donald Trump and the truncated Republican party.
"Barriers can come down. Justice and equality can win... This campaign is about making sure there are no ceilings, no limits on any of us. This is our moment to come together."
(Jewish Press)