How CIC gets decent returns from agriculture
Younger generation unwilling to sweat it out without better returns:
Agriculture might not be seen as an exciting business in this era of software apps that enrich entrepreneurs virtually overnight, but CIC Holdings determination to succeed in this 'traditional' sector is yielding results. Agriculture or the business of providing nutrition to the people, as Samantha Ranatunga, Managing Director / CEO of CIC Holdings calls it, is the group's core business but it is also into other sectors like pharmaceuticals and industrial chemicals. In this interview, he outlines the group's approach and what's needed to revive a key part of the economy.
Excerpts
Question: Could you describe how your company has performed in the face of challenging conditions in recent years?
Answer: It was another difficult year for the corporate sector with elections and the changing political situation. However, CIC Group recorded revenue of Rs. 26.67 billion and a net profit after tax of Rs. 1,633.83 million reflecting strong growth of 13% and 57% YoY in the financial year of 2015/16.
The CIC Group has been successful in strengthening our position in key business segments, significantly increasing the value delivered to stakeholders in a year of intensifying challenges.
Favourable weather conditions and a renewed government interest in food security supported growth of the agricultural sector, which is also expected to benefit from the Food Production National Program 2016-2018 of the Ministry of Agriculture.
Now we can look back with satisfaction - as we made the right decisions at the right time to improve our core areas - by simplifying our model and ensuring there is no dissipation of capital, no dissipation of energy or skill. Basically we focused on the areas where we could maximize our chances of return. With that what we tried to do is to focus ourselves and develop core areas - agriculture output and agriculture input, the livestock business, industrial chemicals and health and personal care business. We focused on these areas and brought investments. We moved away from areas where we thought we had limited expertise - like B to C (business to consumer) and continue to deal with B to B (business-to-business). So this model has paid dividends in the last two years.
Q: How do the political changes affect the business of a company like CIC?
A: Our company is entwined with agriculture; and on the other hand agriculture in this country has political overtones and any change in the subsidy scheme can create negative or positive impact in the agriculture sector as well as in the political environment. As a leading company, what we have done is building capacity in certain areas - for instance, we grow the basic crops in this country like rice, corn, vegetables; we produce milk and chicken and we are involved in providing nutrition to the people. Our journey has been relentless in building capacity and expertise and value addition in these areas. We have found out with this kind of capacity, we are immune to some kinds of political changes - because we are not only dealing with inputs; we are dealing with outputs. When you deal with inputs there are environmental lobbies and toxicological lobbies to manage with. But we work with outputs - such as dealing with farmers, their produce and adding value to the products and reselling it in the local and export markets. That way we have managed to keep ourselves fairly immune to the political pressures. We have also focused on improving farmer welfare.
Q: How do you assess the role of agriculture in the overall economy? What potential remains untapped?
A: Sri Lanka needs better quality genetic material - this is not GM or anything of that nature. We need to get high yielding, more drought resistant, weather resistant and pest resistant varieties. Basically we have to think of food security issues and go on that journey now. As a company contributing to the growth of agriculture we are a part of that journey. We also hope to focus on minimizing post harvest losses, and that the products that are available in the market are of high quality. The next step will be to use modern technology and value addition.
Q: Agriculture is a much talked about subject but its contribution to the GDP remains quite low. What are the problems?
A: Agriculture is talked about for different reasons. It is a vote base. And it is a fact that a disproportionate amount of people are involved in it. About 30% of the population is involved in agriculture; but contribute only 10% to the GDP which is a disproportionate amount.
There are very few outside investments in the sector. Intrinsically it is subsidized or there is subsidy nature to the whole exercise - people think to do agriculture, you need subsidies.
However, the younger generation today desire it to be very rewarding or they try to get out of it because they do not want to be sweating in the fields unless they get a decent return - that I think is one of the compelling factors that is going to take agriculture to a level which is competitive.
What we see today is that farmers do not want to toil in the fields for the same returns their parents got a generation ago. They want more or they want to get out.
For politicians, the farming community is a vote bank; they keep agriculture as a kind of rotational thing - which is easier to identify and address during the times of elections, but may be move away when you really do need not them because their GDP contribution is minimal.
That is the bane of agriculture. We are not taking agriculture to where it should be, because we are not giving the right inputs; we are not giving the right value addition; we are not giving the right prices for the output; we are basically not allowing it to move forward. If we move forward, sometimes the dynamics of the complexities of addressing the voter base (farming community) may change.
I think Sri Lankans are a resilient nation; this is a fact, which has been proved over and over in the past. CIC works a lot in rural areas; we go out to the field a lot and meet the farmers. CIC itself has 30,000 farmers; some are out growers. Now what we find is the second generation is more discerning as they don't want to basically be mucking about in the field unless they get a decent return. They often question - do you have better varieties? Do you have off-season varieties? Can we plant vegetables during the lean period so we get a better return?. We like to work with such farmers who are bucking the trend. That is why we have the SOORA Goviya competition to choose the best young farmers in the country - who are under 35. That we started because we want to keep youngsters in agriculture.
Q: Do you think the next generation of farmers would move away from being part of this 'vote base' so that they are independent and would be able to do better?
A: From a subsidy base, they will definitely move out. They will think in a broad way. They may ask themselves - "do I need to do paddy; Can I grow corn; I can grow vegetables, or banana?" - depending on their ability to understand the bigger market opportunity. In most areas, young farmers no longer wait for the subsidy. They will make intelligent decisions.
We have to cultivate as a habit and support the market. If there are no products to market it becomes a problem. Farmers need to have good quality input material. These are some of the issues we as companies have to address and encourage farmers who want to do new things in this sector. We should ensure they have an opportunity to do that. Then what happens is that the subsidized farmer can be looked after separately.
Q: Although agriculture is still not a major contributor to the economy despite government support and subsidy, we have become a nation with an oversupply of rice?
A: Today unfortunately we are over producing rice; that means excess stocks of rice are going to the animal feed industry due to lack of proper storage facilities when we have a bumper harvest. Imagine when the country has a million tons of rice in excess - that going to animal feed is a crime. We need to produce varieties of rice that can be exported and that can be sold at a higher price.
CIC has had great success in this area. We export rice to the value of nearly 4 million dollars every year. These are varieties of health rice. Therefore, we pay our farmers a much higher price for paddy because we sell that rice around Rs. 150 to Rs. 160 a kilo. There is no use of producing unpalatable Naadu, when you can grow Suwandel which can be sold at Rs. 120. We need to get those equations sorted out.
The young farmers in Sri Lanka are an intelligent lot. They are tech savvy; they join various associations; they are in social media; they go on line; hence they get market intelligence easily and find out any information. They go through a self discovery period. CIC trains 1,500 young farmers every year. We have residential facilities, lecture rooms and farms for practical learning. Those who follow these training programs have the ability to practice most modern techniques of agriculture. They also have the opportunity to become our out growers - when they join the out grower scheme, they get a guaranteed price from us for their produce.
Q: Should the farmer's image be changed and youngsters taught to look at farming as a rewarding profession?
A: Yes. Once, we launched a young woman farmer campaign by advertising in the media and through billboard in key places. They depicted young women in jeans with mobile phones, walking across paddy fields carrying paddy. However, it was ridiculed by some people in our society. These narrow-minded people could not understand that the life of a farmer changes as the generations change. Farmers should be modern and they should earn well and be self-sufficient. They should get good markets, and should be able to sort out their cash flow issues. That is the role we like to play in our society. We work on social aspects, they also need knowledge aspects. Unfortunately Sri Lanka's agriculture sector has very little mechanisms to reach the farmer. We plan to play a key role in minimizing this gap.
Q: Graduates with degrees in agriculture often join other professions, moving away from the agriculture sector. This deprives the agriculture sector of much needed professional inputs, especially in the R and D sector.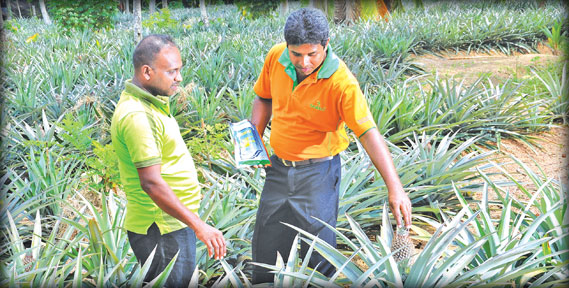 A: Most of the university students doing agriculture often use our farms as training grounds today. We are also very supportive of this. At present we are working with the Eastern University to create a curriculum for the university. They want a more practical and private sector oriented study program for their students, so that they can become employable graduates. Today the university students have only a limited choice of seeing proper agriculture farms - that is with CIC and Hayleys. There are no proper government agri-farms.
I always encourage agri graduates to stay in their field of specialty. For instance I have addressed the Uva Wellassa University's students in the entrepreneurship stream. I tell them not to move away from agriculture. I want to tell those who study agriculture entrepreneurship to bring in value addition to the agri sector and raise professionalism within the industry. Our job situation is still stereotyped and blue collar workers are not duly accepted in society. We have become victims of these social structures. So there is a huge deficit for mechanics and carpenters. Therefore, we must create an environment where youth can earn lucrative money through agriculture. It can be done through building capacity, providing financial education and market and investment knowledge.
On the other hand the government has initiated several programs to encourage the farming community. There's an event to choose the best farmer - the winners are recognized by the head of state. Such programs should continue around the country as we need more stakeholders and more involvement.
Q: What are CIC's future plans for creating a more sustainable agriculture sector in Sri Lanka?
A: We should take advantage of weather patterns. We will go for 'short duration' rice. Now what happens is rice gets destroyed in the middle of the season due to floods, rains and drought - like what happened in April. We have developed a two and a half months variety; that could be a major game changer. It is to fight weather - but it is economically beneficial to the farmer.
For politicians, the farming community is a vote bank; they keep agriculture as a kind of rotational thing Ė which is easier to identify and address during the times of elections, but may be move away when you really do need not them because their GDP contribution is minimal.