Tourist hotels to be classified, rated
Gazette notification issued :
All tourist hotels registered with Sri Lanka Tourism Development Authority will be classified on a star class basis under a new Gazette notification issued recently.
The Extra Ordinary Gazette No 1 of 2016 will classify all tourist hotels in the country where of 344 registered hotels, only 113 are classified at present. There are 9,352 rooms in the classified hotels and 19,634 rooms in registered hotels.
The classification will be in force for three years unless otherwise determined and the hotel will be re-classified at the expiry of three-year period. All classified hotels should display star class and the symbols assigned by the Sri Lanka Tourism Development Authority (SLTDA) in a prominent place.
The Gazette notification further states that no tourist hotel should display, publish or announce any star class or symbol without the official classification from SLTDA. The new Gazette notification has specified minimum requirements for all categories of tourist hotels and there are mandatory requirements for all star class category of tourist hotels varying from star class one to five.
"The tourism industry is a thrust area of growth and tourism is expected to drive the future. Sri Lanka recorded 1.8 million tourist arrivals for last year and expected to receive 2.4 million tourists this year.
The target for next year is 2.8 million tourists. We are seriously looking at the industry and giving guidelines on the standards is a step in the right direction," SLTDA Chairman Paddy Withana said.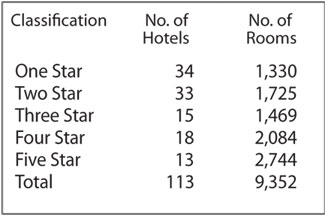 Tourism accounts for 9 percent of the world's GDP and contributes 30 percent in the services sector and every 11 jobs are from the industry.
"Over 40 percent of the travelers make on-line bookings and the quality of the property is a deciding factor in visiting countries. The classification is expected to provide this platform where the travelers can be assured of high standard of service in Sri Lanka," he said.
Tourism as an industry that the whole country could benefit will have a bright future by improving its quality and service delivery. The new Gazette notification will encourage hotels to upgrade their standards and quality.
- SJ