Abans unveils GoPro Cameras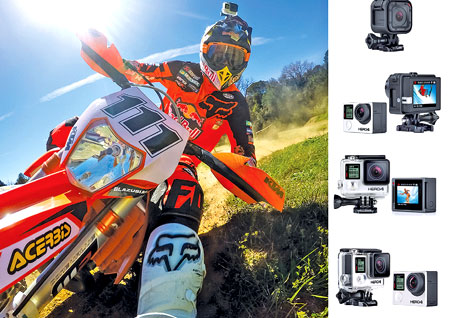 Come experience the phenomenon that is GoPro, exclusively available in Abans. It doesn't matter if you are a thrill seeking adrenaline junkie or a naturalist with a fine eye for photography, GoPro will never cease to amaze you. Discover endless possibilities with a range of cameras to fit your preferences and combine them with host of attachments and accessories to follow you on your quests and activities.
The GoPro journey never stops; enjoy the magic of recording all your breathtaking moments and sharing it with the world. GoPro cams are incredibly durable and versatile, enabling you to push yourself to the limit each time you go off-roading, whitewater rafting, surfing, diving, racing or hiking, in general the GoPro is a hardy companion that will hold fast in the most extreme circumstances. Widely used in extreme sports, amateur journalism, and Avant-garde film making, GoPro has become the game-changing device since the inception of digital recording.
The range of GoPro mounts and accessories means greater user compatibility, because there is no place the GoPro cannot go. Hook it up to your motorcycle helmet, record the trail blazing from your point of view and share your adventure with your friends. Backpacks, Car dash, Skateboards, Surfboards, Helmets, Drones, Handlebars, Guitars, Pets and even your own Body can become a convenient platform for the GoPro. Strap on a GoPro brace or harness on your, shoulder, wrists, chest or head and you're good to go, plus they come in adult and child sizes meaning you can literally keep an eye on anything with all the accessories you will ever need. GoPro supports near infinite options when it comes to what you want to do and now they are readily available at the Abans Apple iStore Colombo 3 and the Abans Apple iStore Racecourse for convenient prices.
The GoPro Hero series available at Abans ranges from the compact Hero Session Cameras to the mighty Hero4 Black cameras. The Hero family enables image capture at high definition and offers other hot button features that you cannot do without such as: more megapixels at a high frame-per-second rate, touch display and water proof up to 40 meters (Water proof capabilities can be improved with a variety of aquatic attachments to allow recording under low visibility at greater depths). The Hero Camera can be controlled, viewed or shared with Bluetooth and Wifi giving the user greater freedom and ease of interaction operating the smart remote or other smart device.
The GoPro has re-defined the fields of Sport, Art, Film, Photography and Journalism by giving users the power to record experiences from thrilling perspectives, turning amateurs to professionals. The revolutionary GoPro Hero Cameras, Mounts and accessories are now available in Sri Lanka for affordable prices at Abans, your trusted home electronics provider. How will you use GoPro to share your adventures?