Biona – beauty and confidence for every lady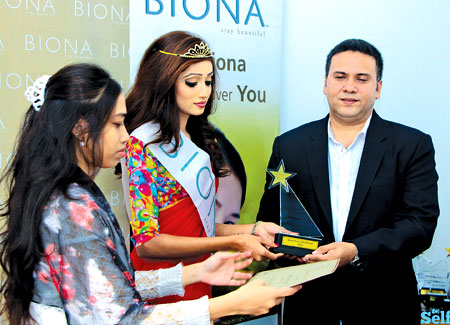 Nature's Only Inc., registered in the USA, are the global manufacturers and marketers of the leading brand Biona, which comprises of therapeutically advanced proprietary health supplements that add to skin, nail, hair health, beauty & weight loss.
Natures Only was founded on the principle of providing "Natures Wealth for Good Health", With the objective of inspiring trust and confidence while providing innovative solutions to specific health concerns. With unrivalled expertise in a wide spectrum of scientific disciplines, as well as manufacturing and research and development, Natures Only is committed to increasing the awareness and benefits of natural healthcare through its presence in Europe, USA, Africa, Asia and Middle east. With several decades of experience in manufacturing and marketing pharmaceuticals and nutraceuticals worldwide, the organization is involved in the emerging nutra-cosmetics area, which a greater number of the world's population are seeking every year.
Biona, a pioneer in the health & beauty supplement category, successfully concluded a virtual beauty pageant, with the belief that 'every lady is a beautiful princess' irrespective of colour, height, age, or accessories. The pageant, one of the first of its kind, was introduced to make every lady feel like a beauty queen and be comfortable in their own skin. The pageant was based on a transparent voting system where anyone would vote for their favourite 'Biona Princess' and the contestants were free to gather their votes through their own campaigns. This revealed numerous beautiful and talented Sri Lankan ladies and thousands of enthusiastic voters who actively participated and made the competition more successful and glamourous than anticipated.
Mr. Romero Linden, Country Manager for Natures Only Sri Lanka, said 'as a brand with a Social Mission of empowering women and giving them confidence in their own beauty and talent, Biona will bring in more initiatives that will help elevate our ladies in multiple spheres.''
A trusted brand with a heritage of over a decade, Biona will continue to improve the lives of many women, not just by adding nourishment to their well-being but also the confidence and inspiration to achieve more.
The picture shows Country Manager Natures Only Mr. Romero Linden and Business Head- Consumer Brands Ms. Shameena Pallie handing over the prize to the winner Ms. Suba Wickramasingha.