Construction work on Havelock City Phase 3 launched
The groundbreaking ceremony to commence the construction of the Super Structure for Havelock City Phase 3 residential towers was concluded recently. The main construction contract was awarded to International Construction Consortium (ICC), the leading Sri Lankan general contractor with multi sector capability and international experience.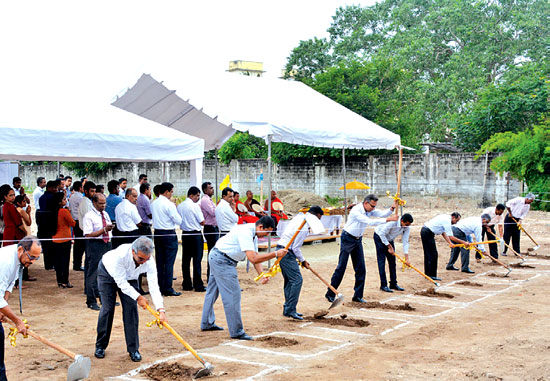 Phase 3 of Havelock City consist of two residential towers Stratford and Melford with 304 luxurious apartments. These beautifully designed spacious residencies with garden and sea views are a combination of 2, 3 and 4 bedroom units and a select number of plush penthouses.
These apartments are released to the market on a limited time special launch price, continuing with an attractive progress payment schemes and loan facilities from reputed banks for potential buyers and investors.
Located in the heart of Colombo, Havelock City is a celebration of modern urban living built on 18 acres of prime land with Residential and Commercial components. The Commercial component includes a world class A grade Office Tower and a large Shopping Mall built to international standards with a fusion of retail, dining and entertainment.
Havelock City is being developed in Phases. Phase 1 & 2 consisting of 445 apartments in four Towers were completed and the residents are enjoying the unmatched privilege lifestyle Havelock City has to offer. The Havelock City Clubhouse, which could possibly be the largest of its kind in any development, is a marvel, with swimming pools, Jacuzzi, banquet halls, gymnasium, restaurant, squash courts, audio visual centers, mini supermarket, launderette and many other facilities and amenities. Havelock City also boasts of Sri Lanka's largest elevated roof garden; an expansive 7 acre eco habitat with lush tropical foliage.
Developed by Mireka Capital land a joint venture between Overseas Realty Ceylon and Bank of Ceylon, Havelock City is the brain child of Mr S.P. Tao, Founder of Shing Kwan Group Singapore and Chairman of Overseas Realty Ceylon, The owner developer and manager of the iconic World Trade Center Colombo. The unique design and built quality of Havelock City was recognized and adjudged the Best Property Development in Sri Lanka by the CNBC Asia Pacific Property Awards.