COPE probe reaches positive stage - COPE Chairman
The Committee on Public Enterprises (COPE) has reached a positive stage with regard to the investigation on the Central Bank Bond issue, COPE Chairman MP Sunil Handunetti said.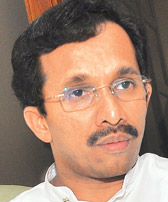 The Auditor General's report to COPE has revealed that there were certain financial irregularities in the Central Bank's Treasury Bond issue, he said in an interview with the Sunday Observer.
The Committee has since decided to summon former governor Arjuna Mahendran, officials of the Central Bank and all those involved in the Bond issue as well.
He declined to give an exact time frame for the conclusion of the probe, saying it was a rather complex national problem. Evidence has emerged regarding the Bond issue and it has to be probed. COPE has decided to proceed with an investigation based on the Auditor General's Report.
The Auditor General handed over copies of a concise Report to all members when COPE met at the Parliamentary Complex for a special meeting. This detailed Report containing 1252 pages also includes sensitive information on CB transactions and information on individuals. The concise Report contains a total of 196 pages.
However, some COPE members were also of the view that the Report submitted by the Auditor General to the Committee should also be forwarded to the Monetary Board. He rejected claims that there was political interference in the work carried out by COPE.
He also refuted reports that COPE members were divided over the Central Bank Bond issue.
"This is simply not true. Seventeen out of the 26 members of the Committee were present at last meeting. The UNP, UPFA JVP, Joint Opposition and TNA were represented at the meeting for about two hours and all members of the COPE committee have accepted Auditor General's report".
He said that whoever has misused public funds should be brought to book. He stressed the COPE Committee will take its own decision on the matter.
"If wrongdoers in the higher echelons are not properly dealt with whether in the present or the previous government, COPE will not hesitate to initiate action against them,"he said.
COPE will meet again on July 5 to discuss the Report and to summon Central Bank officials and Members of the Monetary Board of Sri Lanka on July 7 with regard to the Treasury Bond issue.