Runaway Dengue menace stirs controversial reactions
The Western Province which has the dubious distinction of heading the list of dengue-hit regions , last month showed a slight decline in the accumulated cases ( 46.74%). Nonetheless, the numbers of suspected cases in June are worrying, health officials said. For example, according to the Epidemiology Unit, the Colombo Municipality area this June recorded a spike of 379 compared to 154 suspected cases in May. With a parallel increase in other areas in Colombo, the score now stands at 414 at June end compared to 229 in May in the CMC metropolis. .
Judging from these figures, it is evident that dengue is currently soaring towards epidemic levels, raising questions as to who is responsible, and why.
"The trouble is, there seems to be too many cooks inside the Dengue soup," an unnamed informed source told the Sunday Observer. "No one is willing to take the blame."
Does this include the general public as well?
Recent raids
Recent raids during the National Mosquito Control Week shows it does. "Dengue Control Unit officers who visited nearly 7,000 premises including 2,017 schools and 4,288 government institutes as well as construction sites and religious places, had identified 26% of government institutes , 42% of construction sites and 34% of religious places as potential breeding sites for the dengue mosquito", Consultant Community Physician , Dengue Control Unit, Dr Preshilla Samarawseera said. "Schools , construction sites, religious places as well as government buildings are among the worst offenders," she noted. " We still have no vaccine against the disease", she added.
Rewards
To encourage the public to take on the responsibility of cleaning their neighbourhoods, the Dengue Unit and the Colombo Municipal Council (CMC) has now introduced a Rewards Scheme in the form of green stickers which indicate they are dengue free, and which they should paste on their front entrance. "They are continuously monitored and officers revisit their premises to ensure they remain clean", Head, Dengue Control Unit, Dr Hasitha Tissera said. He said, since schools and construction sites were among the biggest offenders, a special program to fumigate such institutions identified as ' high risk' had been initiated during the three day Anti Dengue Campaign held from June 30, islandwide. In parallel, he said, special campaigns had also been conducted in identified high risk regions which included Colombo, Gampaha, Kalutara , Kandy and Matale towns.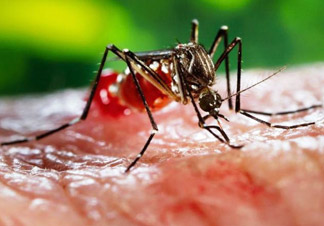 Commenting on the steps taken to keep the heavily congested CMC area free of mosquitoes, the Chief Medical officer Dr Ruwan Wijeyamuni said,
"Whenever Dengue epidemic occurs during rainy months as at present, all our PHIs are immediately dispatched to houses where dengue cases are reported, and they fumigate every house within 100 metres of the dengue affected household. They instruct the affected houses to clean the premises and mend any broken taps and drains. If they fail to do so, they could be taken to court".
Meanwhile, Minister of Provincial Councils and Local Government Faiszer Mustapha at a recent meeting at the Dehiwela Divisional Secretariat Office on Tuesday ( June 28), was quoted as saying, Dehiwala had the highest number of dengue cases, and called for an accelerated eradication program , and for legal action to be taken against owners of construction sites with dengue breeding grounds.
Paediatrician , Epidemiologiy Unit, Dr Jayantha Weeramuni observed, those likely to be worst affected by a dengue outbreak, were children under one year, those over 70 years, obese persons and those with chronic diseases . He said, there were two types of dengue that children could get; 1) Dengue fever and 2) Dengue haemorrhagic fever.
"Watch out for the second type. If not treated in a hospital immediately, the child can go into shock and have internal bleeding. Take the patient immediately to be examined by a qualified western doctor at the nearest hospital, if his/her fever has not come down two days after onset."
Strategy
Health Ministry sources said, five strategies had been adopted to bring down the current morbidity levels and maintain the low mortality rate, namely, Vector Surveillance and Integrated Vector Management, Disease Surveillance, Disease management, Inter-sectoral Coordination and Social Mobilization with Outbreak response communication.
NSAID
Adding to the confusion as to who is to blame for the runaway health hazard, another disturbing issue has emerged: of suspected dengue patients now being given non steroid anti-inflammatory drugs ( NSAID) to relieve them of joint pains in the first two days of the fever, despite the fact that the prescribing physicians were fully aware of the grave long term consequences, if the disease progresses.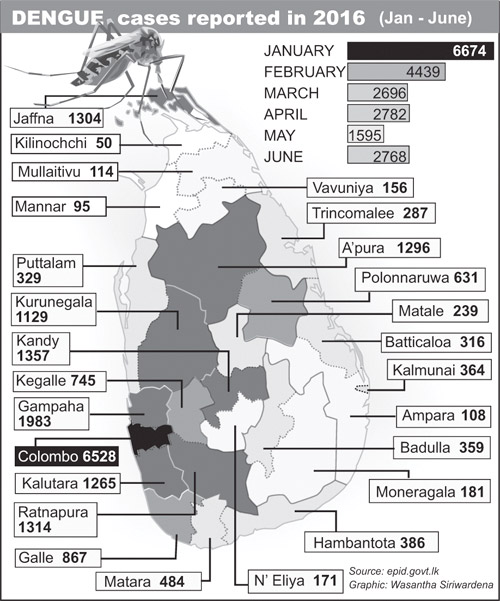 Clinical Head and Paediatrician of the new Dengue Ward at the Negombo Base Hospital, Dr Lakkumar Fernando even went to the extent of declaring that NSAID was the main reason for the increasing deaths (over 50 at present,) from dengue related diseases.
"Due to people now getting high fever from various illnesses, some general physicians and even government doctors are prescribing NSAID drugs as a quick relief measure for joint pain, etc.
All these have long term consequences, which I believe at least 90 percent of doctors prescribing them, are aware of," he said.
If it is only dengue fever it can be managed by sponging and with a paracetamol . If the fever turns out to be Dengue Haemorrhagic Fever, there will be two impacts; systemic and local , which together can impair platelet aggregation and cause coagulation as well as gastric erosions which can lead to further bleeding complications", he warned. My personal view is, they be charged in a court of law," he opined.
Lack of regulations
He laments, we don't have enough regulations to take legal action against such persons
" What we have are recommendations and guidelines, warning against the use of NSAIDs on dengue suspected cases, by the Health Ministry even though in 2012 the Sri Lanka College of Paediatricians identified NSAID as leading to bleeding in children.", he said." If a child has dengue fever protect him from exposure to mosquito bites as he could spread the disease", he added.
Mechanism needed
"We need a mechanism to punish people who cause these deaths. We need to encourage the public to ask their doctors why they are prescribing these drugs and their adverse effects, and for the doctors to respond honestly in a transparent manner," he emphasized. " Answers to questions on this issue could be discussed . Call us on 2368416", he said
Alternative methods
On alternative medicines for treating dengue, he said, "Till we have enough concrete evidence to prove or disprove the effectiveness of papaya juice on dengue patients based on scientific clinical trials, we cannot accept this or any other alternative technique."
He said the High Dependency Dengue Unit at the Negombo Base Hospital which had excellent records since its inception in 2013, could offer such patients with the best possible care."
He added that most hospitals now have an information service where information on dengue and other patients are shared from hospital to hospital islandwide.
Dengue Control Unit Head Dr Hasitha Tissera, when asked if papaya juice was acceptable as an alternative method to treat dengue suspected patients, said , " Don't try it.
It is dangerous and could cause serious complications as many patients brought here after using this treatment are in a critical stage.
Unless they have scientific evidence based on clinical trials to show us, any unconventional modality is unacceptable".
Dengue Control Unit now has a website www.healthedu.gov. lk offering information on dengue.