Tall Storeys
High-rise living in Colombo:
Still under construction, Colombo's Lotus Tower at D.R. Wijewardena Mawatha, currently measuring over 292 meters, is already the most visible landmark in the capital. When completed in October 2017, it will stand as the tallest structure in the whole of South Asia at 350 meters.
The Lotus Tower however has competition. According to the Council on Tall Buildings and Urban Habitat (CTBUH), a global body in the field of tall buildings and sustainable urban design, the tallest proposed building in Colombo is the Al-Aman World Capital Centre. This business and financial hub would rise to a staggering height of 625 meters and 111 storeys above ground level.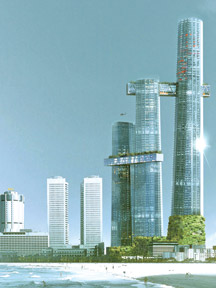 Krrish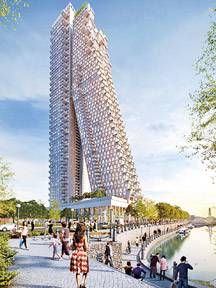 Altair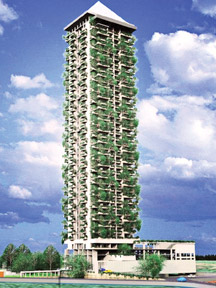 ClearPoint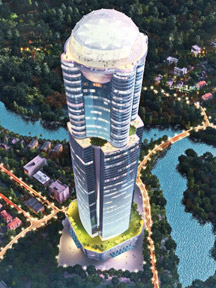 Altitude
"That's the problem with all these skyscrapers that are mushrooming in the capital. We don't know which one would come up next or in what form. It begs the question, 'do we have a plan?'" asked Dr. Janaka Wijesundara, Director at the Program of Urban Design, Department of Architecture, University of Moratuwa.
According to the database maintained by the CTBUH, there are only two buildings over 150m in Colombo which is the World Trade Centre Towers. There are four under construction including Altitude at 383 meters, Altair at 240 meters, the mixed development ITC One Colombo 1 at 225 and Clear point Residencies at 186 meters.
The two proposed buildings which would soar even further than Altitude are the Al-Aman World Capital Centre and Krrish Square Tower (420 meters).
"Based on a comparative study we did of tall buildings in cities around the world, we found that there were stringent criteria that were used for the approval and construction of high rise housing and mixed developments, which we felt should be incorporated here," said Dr. Wijesundara.
This process of re-development which is changing the Colombo skyline needs to be well studied," Dr. Rangajeewa Rathnayake Head, Department of Town and Country Planning and Senior Lecturer at the University of Moratuwa said. He referred to the City of Colombo Development Amendment of 2008 which is meant to promoting and regulating the integrated planning and physical development in Colombo as requiring urgent upgrades. "Our zoning regulations are generic. We need cluster specific guidelines and one that suits this city."
Rising temperatures
Dr. Rathnayake explained that when there are too many towering high rise buildings in a given location, the natural air circulation is disturbed which could lead to higher density which will in turn lead to an 'urban heat island'
The 'Heat Island' effect is a phenomenon that occurs when a city is significantly warmer than rural surrounding areas due to human activities. "Development alters the landscape and increases energy use. As a result there is more radiation trapped in roads and buildings and more waste is produced since people consume more energy. The only way to combat this is to have roofs that are reflective or covered in greenery, which is how it's done in countries like Singapore but not here," he said.
Waste generation and parking spaces
Another issue which arises from an increase in high rise projects is waste management both trash and sewage becoming a problem as densities increase. The city's sewage pipelines were not designed to cope with the huge volume of waste from a 70 story tower, garbage collection must also be standardized in order to cope with vertical townships.
Parking and traffic are additional factors - many of Colombo's residential projects appear to lack parking facilities, and vehicles are parked on already narrow roads increasing congestion.
Even where parking is adequate road access is an issue with the flow of vehicles into and out of large blocks disrupting traffic flow on main roads.
UDA
The Urban Development Authority, however states that stringent procedures and process are followed particularly with regard to high rise buildings. "The reason why the high rise structures appear as if it is happening in a haphazard manner is simply because they are all desperately trying to stick to a plan on where they can and cannot build," said Mahinda Withanachchi, Director of Projects at the UDA. "We follow the City of Colombo Development Amendment Act 2008 which clearly states the many areas where we cannot allow high rise buildings to come up."
He added that the guidelines were clear and conformity to it was compulsory. "When a developer comes to us for approval, it is not merely the UDA which decides but a Colombo Planning Committee which comprises experts and others from across the board."
As part of this committee he added there were members from the Road Development Authority, the UDA, Board of Investment, Coast Conservation and other experts who were well acquainted with planning and development of high risers. "Once the construction is complete, the developer has to revert to this committee to obtain a Certificate of Conformity, which we are very particular about," said Withanachchi.
He added that the prior to granting the Certificate of Conformity, officers from the UDA and other institutions would visit the site for an inspection and to assess if the developer had kept to the initial plan submitted.
"There are so many condominiums which had violated this rule and we took them to courts demanding that the building be demolished," he said. "We intend to take many more in the coming months as we take stock of the developers who are deviating from the original plans."
He added that there were two classifications, minor and major deviations.
"If the matter is a minor deviation, we might only fine the developer, but if it is a major deviation, we will take them to courts. At the same time, we will not offer them the certificate which means that the construction is illegal."
He added that there are many residents in Colombo who had paid hefty sums for apartments and are now without proper deeds because the UDA had not granted the certificate since the developer had deviated from the approved plan.
---
[How to set up a condominium in Colombo]
* Preliminary approval from the Urban Development Authority
* Local Authority approval of plan and supporting documents
* A Certificate of Conformity can be obtained after construction
based on the approved plan
* Collection of documents from Condominium Management
Authority (CMA)
* Submission for obtaining one of the three CMA certificates
* After this process the Condominium Management Authority
takes over
* After submission of necessary documents to CMA, developer
has to coordinate with CMA officials
* There will be a field inspection by engineers, technical officers.
* The construction will be cross checked with the declaration and
Condominium plan.
* The documents are then handed over to the committee coordinators
who will pass it on to the Colombo Planning Committee.
This will be followed by a check by UDA officials and site engineers
* There will be a final committee approval
* Issuance of CMA certificate
* Registration of Condominium Deed of Declaration
Source: Condominium Management Authority/UDA
---
[Warning notice ]
To buyers of Condominium properties
The Condominium Management Authority has observed that certain unscrupulous individuals and organizations who claim to be condominium developers seek a cash despoit from public to reserve an apartment in the Condominium that they proposed to develop.
The general public is advised to request the developer to furnish the following information and data to prospective buyers before
any payment is made.
This includes
Title/Ownership
Copy of Deeds
Ownership certificate issued by the local authority
Copy of the street line certificate issued by the local authority
Preliminary clearance letter issued by the CMA
Building plan approval and development permit issued by the UDA or Local authority
Other areas potential buyers need to investigate:
Storm water drainage system - weather the Central Environment Authority approval available or obtained.
Arrangement made by the developer for water, electricity, sewersystem, generators and back up system for water and electricity.
Parking facilities for the Condominium parcels
Period of construction
Anticipated date of issuing deeds
For inquires call the CMA on 0112447429 or 0112247432