Cometh the man
Dr. Indrajit Coomaraswamy new Central Bank Governor:
Discussion between President, PM before new appointment: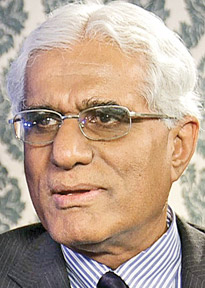 Former central banker and economist, Dr Indrajit Coomaraswamy was appointed as Governor of the Central Bank by President Maithripala Sirisena on Saturday morning, ending weeks of speculation as to who will be appointed to the coveted post, when the former governor declined to seek a re-appointment.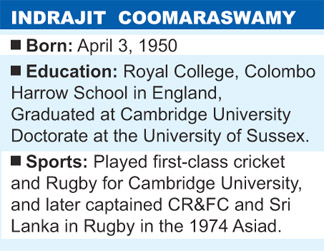 ďAfter consulting all relevant parties, I appointed Dr. Indrajit Coomaraswamy to head the Central Bank of Sri Lanka,Ē President Sirisena said in his twitter feed.
Sources close to the President said there was a discussion between the President and the Prime Minister before making the announcement.
After the announcement was made, Dr. Coomaraswamy met the President at Presidentís House, last morning.
The 66-year-old Economist who spoke to the Sunday Observer declined to comment on the appointment as it would not be fitting since he was yet to receive official confirmation of his appointment but added that he had met President Sirisena for consultations. Dr. Coomaraswamy is expected to assume duties on Monday July 4.
Educated at Royal College in Colombo and Harrow School in England, Dr. Coomaraswamy joined the Central Bank in 1973 where he served at the Economic Research, Statistics and Bank Supervision Divisions. He also served as the Director of Economic Affairs Division and Deputy-Director at the Secretary-Generalís Office of the Commonwealth Secretariat.
The new appointment brings to an end Arjuna Mahendranís turbulent tenure in office as the Governor. During the recent past he was embroiled in a controversy over the issue of Treasury Bonds. He was reported to have left the country to Singapore this week and was unavailable for comment.