Dudley Senanayake Memorial Lecture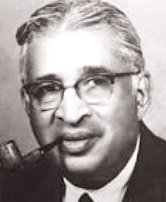 The 16th Dudley Senanayake Memorial Lecture in honour of the former Prime Minister will be held at 5.15pm on July 7 at the Bandaranaike Centre for International Studies, Colombo. It is held with the co-operation of The Friedrich Naumann Stiftung Fur Die Freihert, which sponsored the oration from its inception.
The oration will be delivered by Jose Luis Martin Gascon, Chairperson of the Committee for Human Rights of the Philippines.
The lecture is titled 'Human Rights in a Liberal Democracy'. The speaker has held many prestigious positions in The Phillipines and has won several international awards for his work as a political analyst and social reformer for the concerns of democratic governance for over three decades.
The directors of the Dudley Senanayake Memorial Foundation are Chairman, D.M. Swaminathan, Minister of Prison Reforms, Rehabilitation,Resettlement and Hindu Affairs, John Amaratunge, Minister of Tourism, Christian Affairs and Lands, Rauff Hakeem, Minister of Urban Development, Water Supply and Drainage, Sarath Amunugama, Minister for Special Assignments, Ruwan Wijewardene, Minister of State for Defence, Rukman Senanayake, Bradman Weerakoon, Rohan Edirisingha, Swarna Amaratunge, Ilika Karunaratne, Channa Ranasinghe, Joe Karunaratne, JIth Peiris, Ranel Wijesinha and Shalini Senanayake.