'French lace, the story unfolds'
... an innovative exhibition in Colombo :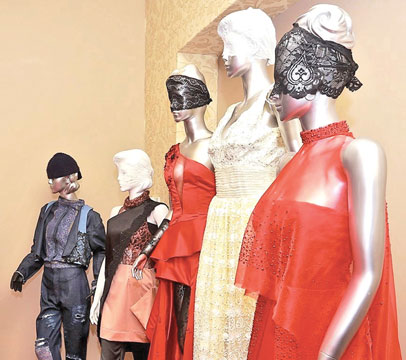 'French lace - the story unfolds', is a unique exhibition which opened on Friday June 17 at Mod'Art International in Colombo 7 and takes visitors on a magical and timeless journey of the many uses of French lace, both in couture and design. Hosted by Mod' ART International Sri Lanka in collaboration with Lanka Institute of Fashion Technology (LIFT), it is part of the annual 'French Spring Festival 2016' presented by the Embassy of France and the network of the Alliance Francaise in Sri Lanka.
Commenting on this unique exhibition, Ambassador for France in Sri Lanka and the Maldives Jean-Marin Schuh said, "I congratulate the staff and students of LIFT for their hard work and creativity which constitute the very essence of this exhibition. I send them all my best regards and trust that this haute couture exhibition will have a very successful run in Colombo. Mod'Art and LIFT designers showcase their talent in recycling and creative concepts of this special French designed lace produced by Noyon Lanka. Harnessing their inherent creativity, they have created a range of unconventional fashion items such as trendy umbrellas, modern face veils with hats, men's shirts, ties, shoes and many other items incorporating lace as decorative fabric.
"We at Noyon Lanka are very happy to have our laces showcased in this exhibition. Noyon Lanka being a joint venture between Noyon Calais and MAS Holdings has French roots, and a rich French heritage associated with its design", said Shiraz Karunarathne - CEO of Noyon Lanka (Pvt) Ltd.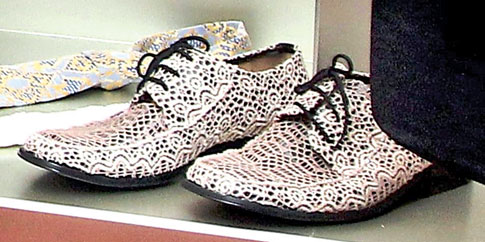 Although no definite date can be given for the 'invention' of lace, it is most likely that what we now regard as lace arose in the early sixteenth century. Lace is timeless and has been adorning, embellishing and complementing couture over the past centuries. Despite the complexity of its fabrication, lace emerges magical in all its sheer delicacy and absolute sensuousness. "Our 2016 concept for the French Spring Festival is based on the theme - Innovation and Creation - highlighting the most sophisticated fabric which is Lace. As the only French fashion campus in Sri Lanka, ModArt International together with LIFT student designers worked tirelessly with Noyon Lanka to recreate the use of lace in fashion with novel concepts, thereby giving it a totally refreshing dimension", said Niroshani Leanage, Managing Director of Mod'Art International Sri Lanka branch and LIFT (Pvt) Ltd.)
Mod'Art international and Lanka Institute of Fashion Technology (LIFT) are the only specialised fashion campuses in Sri Lanka that deliver Fashion Design and Fashion Management undergraduate and post graduate courses from Paris.