'Finding Dory' :
Whirlwind journey across colourful and magical seas
'Finding Dory' is perhaps the most anticipated movie sequel of the year by children and adults alike. Following the movie 'Finding Nemo' after 13 long years 'Finding Dory' takes viewers on a similar but also somewhat different journey as that of the first movie. Instead of focusing on Nemo and his father Marlin, as the title suggests it takes moviegoers on a whirlwind journey across the colourful and magical seas created by Pixar following the Regal Blue Tang fish Dory who has as she puts it and tells everyone she meets, a 'short term memory loss'.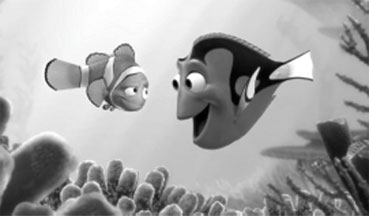 The movie from its start is fast paced as Dory sees flashes from her past which takes her, Marlin and Nemo on a perilous and exciting journey across the sea in search of Dory's long lost family when eventually Dory finds her way into a Marine Life Institute. While in the first movie Dory's amnesia is a long running gag, in 'Finding Dory' however, her memory impairment becomes somewhat terrifying as one watches Dory's difficulty in navigating day to day life. It also tugs at the heartstrings of all parents, especially, that of parents with children who have special needs as Dory's parents, share their worries, hopes and dreams for Dory as they try to prepare her for life while living with her disability. The movie gives viewers an understanding of the illness while impressing upon them the difficulties people with amnesia have to face daily. However, 'Finding Dory' does so subtly without overwhelming the movie with the topic, thereby striking a good balance.
Incidents
The movie entwines with various incidents of the past along with various instances of the first movie going back and forth between the two while it also explains how Dory ended up where she did.
Another standout is one of the new characters, an octopus missing one tentacle named 'Hank' voiced by Ed O'Neil from sitcom Modern Family. Having lived in captivity Hank is terrified of being released to the sea and is willing to do anything to be transported to another facility. As he says he just wants to live in a glass box, which explains the similar tendencies of animals that have lived in captivity for a long period being unable to adjust to their true natural environments. This is another aspect of animal rights being brought up by the movie, while similar messages are clear through Dory's journey through the maze of the Marine Life Institute in her journey to trace her home while overcoming her amnesia to arrive safely at her long forgotten home.
The end of the movie is emotional and is also action packed than the ending of 'Finding Nemo' featuring fish in control of a truck being driven and Otters who disrupt traffic by hugging each other. The movie too gives a message that as the animals in the movie, together anything can be achieved while chaos should be embraced when life does not go according to plan.
Plot
Ellen Degeneres voicing Dory is exceptional with her comedic timing while another favourite was Ty Burrell as Bailey the Beluga Whale.
Even though the plot cannot be exactly called original due to its similarities to the first movie, it is nevertheless full of positivity and can do attitude. It imparts many wonderful messages to children and adults alike thereby making it a must watch.
'Finding Dory' is rated PG (Parental guidance suggested).
Running time: 1 hour 43 minutes.