Amba, unique holiday resort:
Walk amidst tea bushes and feel at home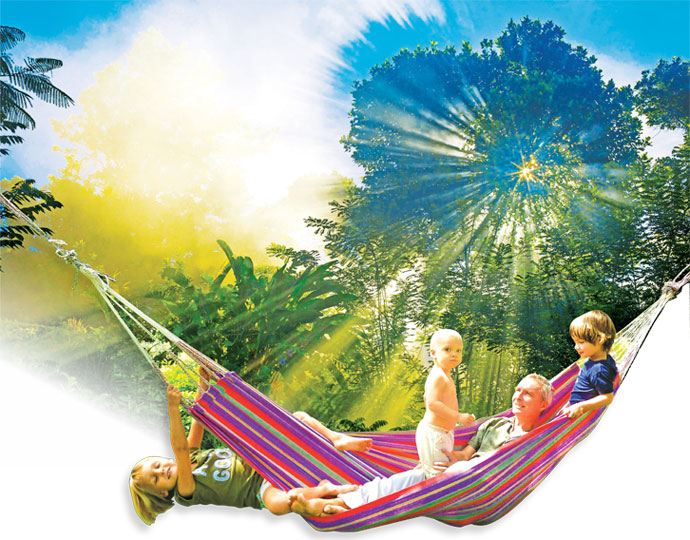 Amba Estate is nestled in the hidden valley of Ambadandegama, on the edge of Uva highlands, looking through the famous Ella Gap to the hills of Kataragama and the plains of Yala. The valley can only be reached by narrow winding roads from Bandarawela above and Wellawaya below.
Amba is one of the most successful agro-tourism projects in Sri Lanka. At Amba Estate visitors go through a unique holiday experience which is healthy, peaceful and relaxing. Guests can enjoy farm fresh organic vegetables, fruits, home-made breads, jams and organic tea and coffee; the produce is fresh and straight from its own garden.
To experience the charms of this faraway farm, one has to head towards a sleepy hamlet, off Bandarawela. The farm bungalow is quite unassuming and is visited by tourists from all over the world while tour operators bring their visitors here for a day's visit too.
Unnerving drive
Although not really remote, nor too distant from the main town of Bandarawela, as the crow flies, the drive can be long and unnerving, given the narrow, winding mountainous roads. The Poonagala road from Bandarawela to the Amba valley, turning left and right, passing tea plantations, at night, a bit lonely and creepy. Try to travel during daylight, taking in the breathtaking views of beautiful mountain sides and lush greenery.
Once you reach the estate, you'll immediately notice that you are in a valley surrounded by magnificent views of mountains. All those who visit the farm, obviously return with great memories of natural beauty and bags full of organic produce, ranging from artisanal teas, coffee, and jams of uncommon flavours to organic fruits and vegetables depending on the season. It is the rural ambience along with traditional mouth-watering food made from farm fresh vegetables that most visitors appreciate.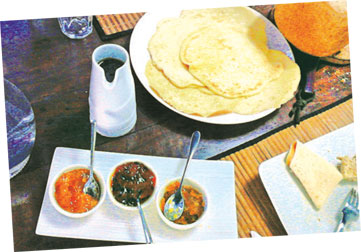 This sustainable rural agri tourism project serves several purposes, it helps support the village economy, produces a range of value added products and promotes the island's tourism through a niche product. The present Amba Farm is the result of several years' effort by Simon Nihal Bell and his friends.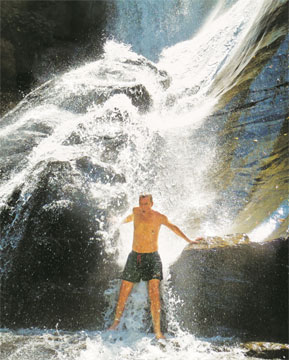 Simon Bell, one of the investors of the project, says, four friends, one each from Sri Lanka, Uzbekistan, Italy and the US (all of whom had worked on projects to stimulate investment and local enterprise in various countries around the world), were looking for an ideal place to start their own development enterprise, probably a remote location with untapped tourism potential. They also wanted to create jobs and support the local population through their project. They found the owner of the Amba estate through an ayurvedic doctor who had his clinic just below Amba Estate, and took over investment in the project in 2006. They immediately converted the estate into an organic farm and revived its tea plantation.
"Our goal is to act as a model for other communities and farmer cooperatives, to show them how they can create their own value-added products and tourism experiences and thereby increase local incomes, while preserving the environment," Simon Bell says.
Farm bungalow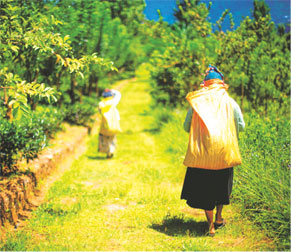 The farm bungalow has five rooms, living area, dining hall, a courtyard and a well-stocked kitchen. The bungalow is 100 years old, we were told. There's a pond with fish in the 'meda midula' at the back of the house, a traditional architectural feature that provides for greater fresh air circulation.
The visitors also have the freedom to make their own tea and coffee. But why bother, Siriyalatha and Sanka are at your service from dawn to dusk. They leave after serving dinner, leaving the whole bungalow to its guests. Both are from the neighbouring village and they've been well trained to do their job, polite, friendly and efficient. Here things are totally informal. You can 'feel at home' completely.
Artisanal tea
The farm's main activity is to make artisanal hand crafted teas; the range of teas they produce include Champaign tea (silver tips), hand-rolled tea, Vangedi pekoe, lemongrass tea and, tea with tea flowers. They are beautifully packed.
A walk in the midst of tea bushes along with guava, lemon, mango and ginger orchards provides refreshing exercise for city dwellers and leaves one with a soothing feeling. The tea tour conducted by its manager Karuna Mohan Raj is most interesting. He takes you around the tea estate, explaining how they have developed the concept of making value added teas in the farm. Karuna happens to have deep roots in the soil on which the bushes grow.
Jam and coffee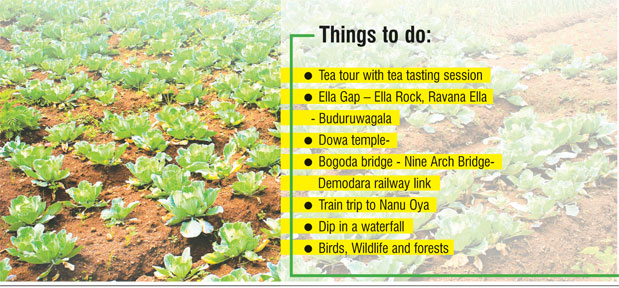 The estate has other projects, such as, making jam, coffee, organic farming and compost making. One can also have a look at the cows kept for fertilizer; the farm now has magnificent bulls and a dozen cows and their calves. The farm observes rain water harvesting and other conservation techniques. The management say they want to improve these facilities further and to become a farm self-sufficient in water and energy.
Amba is an ideal place for children, not only can they roam about the hills, but also learn about sustainable farming.
(CJ)