Opinion:
'From Conflict to Stability':
The true story about the Northern Province
It is no understatement that Sri Lanka has been subject to international condemnation from all corners for its decision to militarily defeat the LTTE terrorists as well as its program of resettlement of Tamil civilians, rehabilitation and reintegration of former LTTE combatants and the spree of infrastructure development in the North and the East.
Browsing through the 293-page Report of the Presidential Task Force for Resettlement, Development and Security - Northern Province (2009-2012), the colourful pages of change certainly make readers to debate as to the authenticity of the tarnishing campaign spearheaded by foreign-based LTTE supporters.
These Tamil civilians do not look as though they are been subject to any type of harassment as is being publicised.
When millions remain as IDPs and refugees in all the countries where invasions have taken place, no sooner the LTTE was defeated, calls came from far and beyond demanding that the civilians be resettled. Did they purposely ignore that the areas of the North were mined? Demining was one of the major challenges which was completed in August 2012.
Menik Farm where the displaced persons were kept temporarily was internationally publicised as an "internment" camp, giving it the flavour of Hitler's Germany where none came out alive, unlike the Tamil civilians who have all been resettled in areas where they can carry out normal living as well as close to a place of livelihood, schools and other such amenities. What they seek is certainly not the wishlists that people overseas demand of the Government to deliver.
Accommodation planned
Menik Farm was made out to be such a horrific place, but little did anyone know it was just 40 minutes from Vavuniya. What is important to note and which the report clearly reveals is that the planning of accommodating the displaced was done far ahead of the actual final battle. Therefore, the Government was prepared to take care of its own people and given that Sri Lanka was a Third World country, that was a commendable act.
Of course, nothing is without shortcomings, but the overall action is what needs to be lauded and not minor deficiencies because let it not be forgotten that Sri Lanka was the only country to defeat a terrorist organisation and as such, the only country to have also taken on the challenge of actually forming an indigenous program which has done remarkably well, given the limitations which Third World nations suffer from. Therefore, Sri Lanka needs to be evaluated not on the benchmarks relevant to the developed West.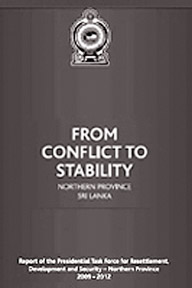 All those making demands of the Government forgot to take note of the fact that for three decades, the region was under a militant rule which had done pittance to provide for infrastructure or enhance the living conditions of the very people it claimed to protect. The 180-day action program was designed to quickly address the basic infrastructure needs with $3.2 billion at its disposal to take care of the water, sewerage, electricity, health and education sector with 900 schools now functioning with over 260,000 students and close to 14,000 teachers. Three hundred thousand people have so far benefited from the water supply in the Jaffna peninsula. Water supply and sanitation alone have cost $164 million.
The 294 Hindu temples in all five districts have been provided Rs.41.8 million in financial assistance from 2008-2009. The Madhu Church was renovated at a cost of Rs 27.4 million. Many Hindu temples have been renovated by Government troops themselves.
Accusations that resettled civilians have had a bad deal are nullified by looking at the resettlement package: six months' of dry rations, a total shelter grant of Rs.25,000 per family, 40- perch land, non-food relief items that include mosquito nets, kitchen sets, towels, plastic mats, bedsheets, hygiene packs, tool kits including hurricane lamps, seed paddy (two bushels per acre per family for two acres), 12 roofing sheets per family and eight cement bags per family.
For people who were given nothing by the LTTE, not even food during the last stages of the battle, their appreciation shrouds that of those who throw stones from afar.
Interim arrangement
The welfare centres were only an interim arrangement, however, care was taken to ensure that the basic needs were met. Water and sanitation were key issues and the heavy rains did not help either.
Food and nutrition, healthcare centres, referral- hospitals, post-traumatic stress disorder support, psycho-social work and recreation, reunification of displaced with people their families, opening banks inside relief centres so that the displaced could place their money and jewellery, vocational training and preparation for self-employment, religious, spiritual cultural activities and providing of national ID cards, birth and death certificates were just some of the initiatives taken by the Task Force and nothing of the nature that takes place in the "internment" camps being publicised by people who have not set foot in the relief centres to observe the lengths to which officials had gone.
There was also the question of how to deal with ex-combatants; 11,664 in total with 4,167 married, 7,375 single and 122 widowed and 594 children (above 12 and under 18 years of age). The Government took a magnanimous decision to pardon the 594 children, internationally declaring that none would be charged, taking the stand that these combatants were viewed more as victims than perpetrators. Many of these children have sat for O/L and A/L examinations, some going on to university while others have found laudable ways to recommence their lives as citizens of Sri Lanka.
Today, continuing with the Uthuru Wasanthaya program, Tamil families are engaged in all types of livelihood from dairy farming, goat farming, backyard poultry, fisheries and self-employment. The districts of Kilinochchi, Mullaitivu, Vavuniya and Mannar have all seen tremendous economic and social development and earmarked to have 1,000 houses.
During a drive to the areas of the North, a scene that cannot escape anyone's attention is the booming agricultural sector - paddy cultivation, gram, chillies, gingelly, red onions, kurakkan, maize, cowpea, dragon fruit and a variety of other fruits, palmyrah, coconut and cashew are just some of the activities farmers are involved in.
Northern coastline
The length of the Northern coastline is 480km (30 percent of the coastline of Sri Lanka) and coastal habitats include lagoons, estuaries, mangroves, sea grass beds, salt marshes, coral reefs and sandy beaches. The North also has 54 major and medium tanks and 1,500 minor tanks. Under the Divi Neguma program for the fisheries sector, a host of projects are on the pipeline.
Over 20 banks and over 10 financial services companies function in the Northern Province, catering to all needs of the public. The road network of the North has undergone tremendous improvement from the poor condition it was in.
The train service was one of the most important services prior to LTTE terror. Lawyers boarded the Colombo train, bound for the North, from their car and used their own cars to finish their duties and return home by train. The LTTE has ruined what was once a key mode of logistics both for the poor and rich.
Numerous UN agencies and NGOs also partnered in the program and their contribution needs to also be noted and mentioned especially in the sphere of demining.
The 293 - page report compiled by the Presidential Task Force for Resettlement, Development and Security is good for anyone to browse through to find out details about the extent to which planning went to reach out to the five districts that for three decades had functioned out of the scope of the Government of Sri Lanka and those criticising need to first take note of this fact.
These areas were underdeveloped, not because they were neglected by successful governments, but because the LTTE was ruling these areas. The people of these areas were still living in the 1980s in terms of needs and comforts because apart from main Jaffna all other areas were under the total control of the LTTE.
Infrastructure development was at a standstill for three decades because the LTTE preferred to use US$300 million profits for its own use rather than make a road, school, hospital or house for the Tamil civilians.
The people, local and overseas, need to be aware of this fact, even those that continue to chant of discrimination cannot hide the changes visibly seen as compared to the barren and depleted conditions in which the Tamil people lived - most of whom were unable to leave for fear of being killed by the LTTE.
Whatever the critics say - Sri Lanka remains the only nation to have eliminated one of the world's most ruthless terrorist organisations, to have simultaneously carried out a humanitarian rescue operation and while feeding, providing shelter and even taking care of the social and cultural needs of the displaced plan out a resettlement and reintegration program within three years that deserves bouquets rather than brickbats!
Courtesy: defence.lk