Drop in vegetable prices
Vegetable prices in Colombo markets showed a declining trend last week but supplies are still weak, traders at the Pettah Manning Market said. The price decline last week was due to low demand. As prices of vegetables increased to unaffordable levels the demand has fallen, they said.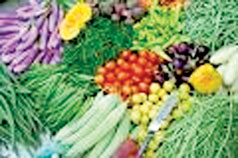 Last Friday the retail prices recorded were: beetroot Rs. 160 per kg, carrot Rs. 180, bitter gourds Rs. 140, leeks Rs. 120, capsicum Rs. 220, green chillies Rs. 300 and cabbage Rs. 80.
However, traders at the Nuwara Eliya economic centre said that vegetable supply is increasing and prices are on the decline. By Friday the wholesale prices recorded at Nuwara Eliya were: leeks Rs. 75 per kg, carrot Rs. 130, beetroot Rs. 100 and cabbage Rs. 65.Supplies are coming in from Welimada, Nuwara Eliya and Hanguranketa. With high quality Pakistani potatoes in the market, the prices of local potatoes too have come down. Wholesale prices of local potatoes in the Nuwara Eliya market had declined from Rs. 140 to Rs. 85 by Friday, market sources said.
Meanwhile inflation for January has increased to 9.8 percent (YoY) from 9.2 percent in December 2012 mainly due to the increase in food prices, Central Bank sources said."This was mainly due to price increases in several varieties of food items on account of crop damage and supply disruptions due to adverse weather conditions that prevailed in the island. The inflation rate on an annual average basis also increased to 8.1 percent in January 2013 from 7.6 percent the previous month.
However, core inflation decreased on a YoY basis to 7.3 percent in January 2013 from 7.6 percent in December 2012, while annual average core inflation increased to 6.1 percent in January 2013 from 5.8 percent in December 2012, according to the Central Bank.
According to the Department of Census and Statistics the CCPI increased by 0.8 percent in January 2013 over the previous month, with the Index increasing in absolute terms to 170.0 from 168.6 in December 2012.
The contribution to the monthly increase in the Index came mainly from price increases in the Food category (by 1.3 percent). The prices of most varieties of vegetables, fresh fish, dried fish, red onions, coconuts and some varieties of fruits increased during the month.However, a decrease in the price of eggs and potatoes was reported. Within the Non-Food category, prices increased in the sub-categories of Transport (by 0.8 per cent); Housing, Water, Electricity, Gas and Other Fuels (by 0.5 percent); Clothing and Footwear (by 0.1 percent) and Health (by 0.1 percent).
The increase in transport and housing, water, electricity, gas and other fuels was due to the recent upward price revisions in petrol and LP gas.
Meanwhile, the prices in the sub-categories of Furnishing, Household Equipment and Routine Household Maintenance, Communication, Recreation and Culture, Education and Miscellaneous Goods and Services were unchanged during the month.