Sampath Bank commissions foreign currency ATM
Sampath Bank opened an ATM to exchange foreign currency at its head office at Navam Mawatha, Colombo 2.
It was commissioned by the Governor of the Central Bank, Ajith Nivard Cabraal. Deputy Governors of the Central Bank, Sampath Bank Chairman Dhammika Perera, Managing Director Aravinda Perera and members of the Board of Directors, Senior officials of the Central Bank's Foreign Exchange Department and Sampath Bank were present. Sampath Bank account holders and non-account holders can change dollars through this ATM.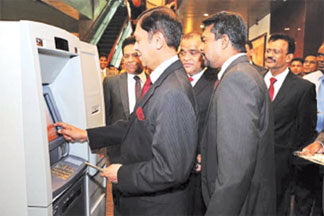 An ATM card is not necessary to access the ATM. The user can do so by inserting his or her passport number or the National Identity Card number.
While at the initial stages only US dollars can be used for transactions, the Bank hopes to extend the facility to other foreign currencies in the near future. Among the benefits of transactions through this ATM is the attractive conversion rate. The user will receive Sri Lankan rupees in notes and in coins.
Governor Cabraal said that in keeping with global trends, Sri Lanka too should change the way it does business. "Sampath Bank, one of the banks which is in the forefront of innovation, keeping its tradition alive, has introduced this innovative way of exchanging foreign currency into SL rupees through an ATM." "I thank Sampath Bank and its management for this new methodology and hope there will be many more 'firsts' in the near future," he said.
Sampath Bank, Managing Director Aravinda Perera said that as the pioneer in innovative banking, Sampath has reached yet another milestone by unveiling Sri Lanka's first ATM to transact foreign currency. "We are conscious of the need to provide the best possible service and this is another convenient service we offer everyone. At a time the country is moving to achieve US$ 4000 per capita income, we are happy that Sampath Bank could contribute even in a small way by introducing the first foreign currency exchange ATM to Sri Lanka," he said.
He said that Sampath Bank has always been in the forefront of innovation in the banking sector. "We introduced networked ATMs to the country, on-line cheque deposit machines, and many other innovative financial products to the market. Our Internet payment gateway was always there even during the tsunami, when the country needed us.