SLIIT joins EMC Academic program
The Sri Lanka Institute of Information Technology (SLIIT) joined the global EMC Academic Alliance program of EMC Corporation to bridge the skills gap in the country due to the rapid development of the IT industry. "SLIIT considers it of national importance to educate our students on next-generation technologies. We are confident that the partnership with EMC Corporation which offers world-class study programs will allow our students to acquire relevant skills and make them industry ready as they join the IT workforce," SLIIT Managing Director and Chief Executive Officer, Prof Lalith Gamage said.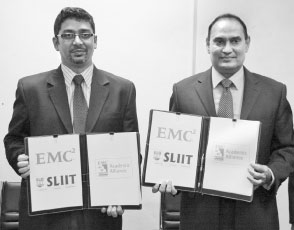 "The program cultivates talents globally and we are working with the best universities and technology education institutions in the world. We are proud to have a premier IT institution such as SLIIT which produces the largest number of IT graduates in Sri Lanka," he said.
"We aim to provide EMC's experience in emerging technology areas to SLIIT students, who play a major role in the fast growing IT sector in the country," said EMC Academic Alliance Program, South Asia and Russia, Head, Krishna Kant.
"We have seen a 40 percent growth annually and providing training for professionals in the market is essential. While offering an integrated study program, EMC courses will also include specialised programs to cater to needs of the IT industry," he said.
EMC provides IT professionals the skills needed to successfully implement transformational technologies in their organisations.
The aim of the EMC Academic Alliance program is to produce a sufficient number of IT professionals to fuel industry growth which is expected to become a billion dollar industry by 2016, he said.
SLIIT is one of the first institutes in Sri Lanka to partner EMC and offer Information Storage and Management as part of its curriculum. The course will be a part of the IT engineering curriculum for students in the final year. SLIIT will also offer advanced courses from EMC in emerging technology areas such as cloud computing, backup recovery systems and architecture and data science and big data analytics.
It will also provide instructor training, teaching resources and course materials to expand the SLIIT's expertise and knowledge in line with industry trends. SJ