Sweeter grapes in Jaffna
Grape cultivators in Jaffna are in for good times as their produce will be made sweeter with new pruning and cultivation methods that will be introduced by agricultural research officers. The sourness of grapes has been a major drawback to grapevine farmers making a living off the crop.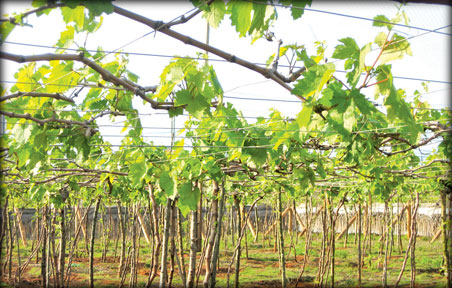 Senior Research Officer (Horticulture), Field Crops Research and Development Institute, Mahailluppallama S.G. Piyadasa said that at the stage of ripening, a few fruits in the bunch develop colour. When 30 percent of the fruits in the bunch develop colour, irrigation should be stopped to allow the soil around the vine to dry.
"When harvesting the grower should select the bunches where all the fruits have developed colour uniformly. Farmers are of the view the ripe fruits in the bunch will fall if the bunch is kept on the vine for a long period," Piyadasa said.
He said that this method will help increase the sugar (brix) content of the fruits and it will have an attractive colour. It will help farmers to get a good price for their produce.
Last season the farmers in Dambulla who followed this method sold a kilogram of grapes at Rs. 400 while farmers in Jaffna sold it for Rs.180.
A grapevine grower in Chunnagam, K. Gnaneswaran, said that there is a stable market for grapes and he gets a good price for his produce. He spends around Rs. 80 to harvest a kilogram of grapes and earns Rs. 180 on a kg.
He said that about 600 vines could be grown on an acre. A vine bears fruit within eight to 10 months after planting the cut-lings. Grape farmers in Jaffna said that if the grapes were sweeter it would help them to fetch a higher price and cater to a large market.
Cargills PLC donated seedless grape plants to farmers in Jaffna under the National Horticultural (NHA Project), a joint project of Cargills Agrifoods Limited and USAID which focuses on enhancing the quality and yield of fruit and vegetable in the North.
Cargills Agrifood, DGM Haridas Fernando said that the company will help grape farmers to get a good price for their produce by increasing the sweetness of grapes.
"We give farmers a better price and ensure them a stable market for their produce. Cargills purchases the produce of farmers through its collection centre in Jaffna. The absence of a stable market and the exploitation by the middlemen has hit grape farmers. As a result grape cultivation and other crop farming have been affected in the North.
The grape is a fruiting berry of the deciduous woody vines of the botanical genus vitis. They can be eaten raw or could be used to make wine, jam, juice, grape seed extract, raisins, vinegar and grape seed oil. Grapes are non-climacteric type of fruits which bears in clusters.
An Agriculture Department officer in Jaffna said that a better market has been created for grape farmers in Jaffna with the opening of the A-9 road. He said that grape cultivation in Jaffna has increased from around 52 hectares in 2009 to around 60 hectares today and that the extent of cultivation is increasing.
He said though there are other districts where grapes are cultivated, Jaffna is the only district that grows it on a commercial basis.
There are around 500 farmers cultivating grapes in Jaffna. The number of growers is on the increase with a stable market and a better price for their produce. Grape cultivation has recommenced in many areas as the crop has a higher return. Grape cultivation was introduced to Sri Lanka by the Dutch two centuries ago. Since then Northern farmers have depended on the age-old crop as means of living.
Grapes are cultivated during two seasons from August-September and January-February.
Piyadasa said that consumers expect the local grapes to be of the same quality as those imported from Australia. Australian grapes are sweeter and seedless. Sweeter grape varieties such as Cardinal and Israel Blue have been introduced to farmers.
The agriculture sector in the North, including crop and livestock has contributed around 65 percent of the total gross domestic product of the district. In terms of production, major cash crops like chilli, onion, tobacco, potato and banana are cultivated in large extents to meet a substantial portion of the national requirement.
Fruit crops such as mangoes, grapes and jak are also produced in large quantities.
Viticulture is the science, production and study of grapes which deals with the series of events that take place in the vineyard. When the grapes are used for wine-making it is known as viniculture. It is a branch of the science of horticulture.