Abans launches GPS navigation systems
Abans launched the DPJH SatGuide navigation system recently. This navigation system provides users with turn by turn navigation and it is up-to-date with all the latest roadways and infrastructure developments.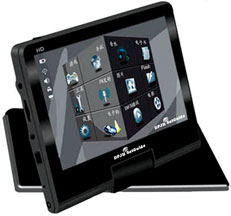 The SatGuide has an index of over 225,000 important locations and its voice guidance is available in English, Sinhala and Tamil. SatGuide's Business Directory holds contact information of all major companies in Sri Lanka.
The SatGuide's features, however, are not limited to that of navigation. The device can also be used to listen to music, watch videos, play games, view photos, listen to FM radio and a variety of other options.
Travel information for Sri Lanka can also be accessed through the device on the offline website: gatewaytosrilanka.com.
The in-built G2SL software in the device gives you invaluable information on Sri Lanka's historical places, restaurants, hotels, shopping complexes and other important locations.
This travellers companion which has a 2GB/4GB data storage capacity, stores over 1,000 songs.
The product range consists of three portable navigation devices and car audio software, including the Standard Silver, Standard Orange and the Superior.