Orange Electric acquires Singaporean company
Orange Electric has entered the South East Asian market through the acquisition of a Singaporean electrical company. The 49 percent acquisition of Shirakawa Denki (Pte) Ltd led to the creation of Orel Far East (Pte) Ltd.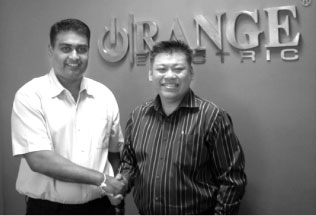 "The new partnership will now take Orange to the next level in its strategic marketing plan; positioning the company's products across South East Asia. It acquired a Singaporean company to give Orange a stronger brand positioning in an extremely competitive and quality conscious market," a spokesman for the company said.
Managing Director of Orange Electric, Kushan S. Kodituwakku said that the time has come to expand the Orange product portfolio to international markets and Singapore is an important step.
"Singapore for us is a strategic market. We will now be a much stronger entity in terms of taking Sri Lankan manufactured Orange products to sophisticated markets. Singapore is a very vibrant market and will open many doors for us such as the Middle Eastern market and it is also a gateway to other Far-Eastern countries.
"This partnership would not only improve and expand our product portfolio but will allow the development of parallel products for different markets, which we could eventually introduce in Sri Lanka".