The Badulla trek:
A great train journey
The railway from Colombo to Badulla, approximately 300km or 180 miles in length, ranks among the great train journeys in the world.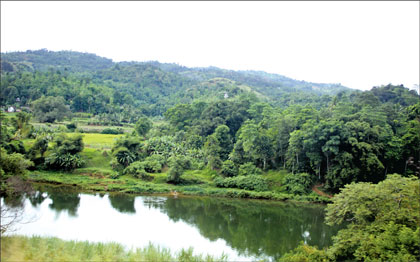 Starting from Colombo a few metres above sea level, it goes through some of the most beautiful landscapes in the country, racing across the western plain replete with smiling paddy fields and joyous palm trees swaying gracefully in the whispering wind and entering the hill country at Rambukkana some 85km away.
From that point onwards it is a continuous struggle up the mountains, except for a brief respite along the Mahaweli valley between Peradeniya and Gampola-forging its way through 45 tunnels, hugging precipitous slopes, leaping across rivers and streams, breathing the aroma of tea in our verdant tea country, until it reaches the summit at Pattipola 6226 feet above sea level.
A foreigner once remarked that from the summit point on some day one could almost touch the clouds.
From the summit the line descends into the Uva valley hastening through marvels of engineering ingenuity to Badulla at an altitude of 2140 feet above sea level.
- Internet