At UN Human Rights Council sessions:
Sri Lanka will stand its ground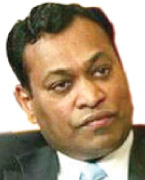 Sri Lanka will stand its ground if there is a move for a procedural resolution by the US and its allies at the forthcoming UN Human Rights Council sessions in Geneva next month.
External Affairs Ministry Secretary K. Amunugama said, "Our position is that if the USA or any other country puts forward a resolution against Sri Lanka, we will stand our ground," in response to a query by the Sunday Observer if Sri Lanka was ready to face a negative resolution at the UNHRC in March.
"In fact Sri Lanka can show the HRC members its impressive progress after the end of terrorism," he said while stressing that his office has not received any formal communique with regard to the US intentions to move a procedural resolution at the forthcoming Geneva sessions.
Head of the three-member US team, Deputy Assistant Secretary of State James Moore told a press conference on Thursday, at the end of their visit to Sri Lanka that they were sure of India's support to their move. He said the new resolution will build on the March 2012 resolution.
The Foreign Secretary said Sri Lanka and India currently enjoy excellent bilateral relations and these relations had been further enhanced in the area of trade recently. "In fact the eighth meeting of the India-Sri Lanka Joint Commission concluded a week ago."
There was a resolution last March calling for the implementation of the LLRC recommendations.
The Ministry is assessing the progress made on the implementation of the LLRC recommendations, entrusted to the Secretary to the President.
He said, "We believe we have achieved a substantial amount of progress within a short period of time." A report outlining the progress achieved so far will be submitted to the members of the Human Rights Council before its sessions.
Amunugama said that the Ambassadors here and many of the visiting foreign delegates had expressed satisfaction on the progress achieved, particularly in the area of infrastructure, rehabilitation, reconstruction and livelihood development, in the North and the East in particular.
He said the Sri Lankan team is aware of the challenges posed by countries with different views on Sri Lanka's situation but it was prepared to shoot down any misconceptions with facts and figures.