More investments to cushion impact on economy:
Two months' natural disasters cost over Rs 100 billion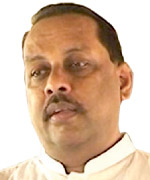 The impact on the national economy from natural disasters within the past two months may exceed Rs.100 billion as the damage to the national road network alone has been estimated at Rs.17 billion, Disaster Management Minister Mahinda Amaraweera told the Sunday Observer.
He said the Government will invest more on disaster mitigation projects to cushion the impact on the national economy.
The Minister said a comprehensive report is now being prepared to ascertain the effect on the national economy due to the natural disasters.
Minister Amaraweera said that the disaster mitigation projects carried out by the Disaster Management Ministry along with other Ministries have so far shown positive results in averting major floods where flood mitigation projects were carried out.
"For instance, we averted major floods in Dambulla this time due to the flood mitigation projects carried out in the area after major floods had been reported", he said.
The Minister said the National Council for Disaster Management which met last week also decided to build more tanks to retain the rain water to mitigate floods and the effect of droughts. He said the Economic Development Ministry has agreed to provide funds to construct these tanks together with the Irrigation Ministry as they could help retain the water overflowing from major reservoirs during rainy seasons and thereby preserve the water.