Turkish Airlines launches flights to Colombo
Turkish Airlines, a pioneer in commercial aviation entered the Sri Lankan market, offering many novel services in the world.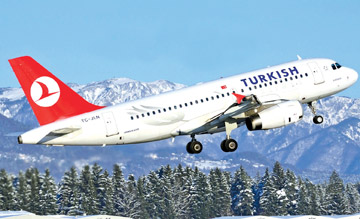 The airline operate flights directly from Colombo to Istanbul for the first time.
One of the first carriers to introduce an in-flight chef, Turkish Airlines is also currently ranked number two for best economy class catering.
Pership Holidays is the appointed GSA for Turkish Airlines in Sri Lanka and initially the route will see five flights a week.
Connecting over 271 destinations across 96 countries around the world, the introduction of the Colombo route supports Europe's growing interest in Sri Lanka as a holiday destination. Rated by Lonely Planet as the best place to travel to in 2013, Sri Lanka is fast emerging as one of the best value destinations.
In 2012 alone, 38.2 million travellers chose Turkish Airlines as their preferred option due to its 'Four-Star' ranking and class options which includes the unique 'Comfort Class' that brings together the best of Economy and Business classes.
Turkish Airlines plans to operate from Colombo on Monday, Wednesday, Thursday and Sunday, arriving at 1510 local time (LT) and departure; the same day at 2140 LT; arrival in Istanbul the next day at 0545 LT.
The initial flights will operate as Istanbul/Male/Colombo/Male/Istanbul and from Istanbul the airline offers convenient flights to the US, Europe, Eastern Europe, Scandinavian countries and the CIS.
-LF