Sri Lanka press visits CP+ 2013 Expo in Japan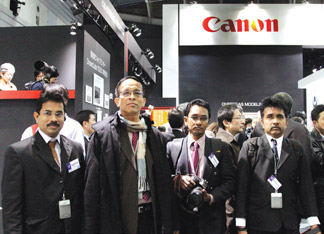 The largest annual camera and imaging product exhibition CP+2013 Exhibition held in Yokohama, Japan was opened recently by Makota Kimura, Chairman of Camera and Imaging Products Association, Japan.
Canon a major player in the imaging sector announced new models encompassing ground breaking and most advanced technologies in the areas of photography and printing.
The Canon booth at the exhibition displayed the latest camera models catering to the discerning photographer both amateur and professional as well as to the varying photography and videography needs such as movie, media, wildlife and so on. The range of cameras offered at the booth was widely received by the large gathering of visitors.
Kimura was accompanied by Satoshi Miyamoto, Asst. Vice Minister, Ministry of Economy, Trade and Industry, Kozne Nakayama, General Manager, Yokohama City Tourist Agency along with other delegates.
Among the top global press in Japan to attend and participate in the exhibition were three Sri Lanka media photographers who were privileged to participate at this exclusive event courtesy Canon. They are Kamal Jayamanna of ANCL , along with J. Weerasekera and Chatura Kodikara of Ceylon Today and Rivera Group respectively.
They were accompanied by Taslim Rahaman, Director/CEO Regions of Metropolitan Office Pvt Ltd, the local distributor for Canon cameras. Rahaman added that the tour included a visit to the headquarters of Canon Inc, Japan as well as the renowned Canon camera factory in Oita, Japan.