Husband and wife taken in for questioning:
Police bust large scale foreign liquor racket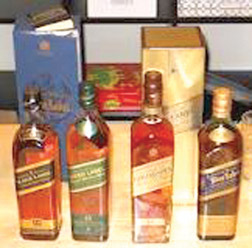 A large scale foreign liquor racket was busted following the arrest of a husband and wife last week who allegedly sold well-known brands of imported foreign liquor without a permit by using a mobile luxury van with dark tinted windows, Police Media Spokesman SSP Prishantha Jayakody told the Sunday Observer.
The couple was taken in for questioning near the cemetery at Nawala, Nugegoda while attempting to sell an imported bottle of Red label whiskey for Rs. 3,000 to a police decoy who posed as a connoisseur, police said .
Following the transaction, a police party led by OIC Walana Vice Squad, Inspector Duminda Balasuriya arrived at the scene and took the couple in for questioning. On searching the van police found a stock of expensive imported whiskey such as Johnny Walker Red and Black label whiskey, Vat 69 and a bundle of imported cigarettes. "There were 71 bottles of one-litre whiskey worth over Rs. 3 lakhs in the possession of the couple who did not have a permit from the Excise Department to sell the imported liquor," police said.
The couple who had been engaged in a small business venture had been selling imported liquor in a mobile van on the sly. The suspects along with the consignment of liquor were handed over to the Welikade police station to be produced in court.
The Walana Vice Squad is investigating as to how the couple possessed such a large quantity of imported whiskey.
Further investigations are being carried out on the direction of SSP Palitha Fernando, Director of the Walana Vice Squad, Panadura.