Memories strewn with roses and thorns
February 4, 2013. Let us bring to mind memories of 65 February fourths. Memories strewn with roses and thorns. February fourth 1948. A proud lion flag fluttered resplendently over our little gem after nearly four centuries of foreign domination. On that happy day, a vibrant leader-our first Prime Minister and father of the Nation hoisted our country's flag.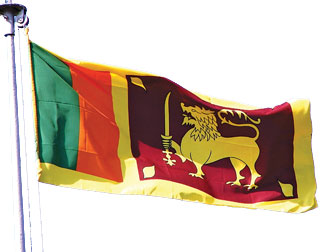 The Union Jack was gently and gracefully lowered. Yes! The sun had begun to set in the British Empire.
Sri Lankans should be thankful to them for giving us their language, their system of government, judicial system, rail and road communication systems, lucrative foreign exchange earning, plantations and a good administrative system.
February 4, 2009. Sixty one years since Independence. And, after nearly three decades of gunfire, rockets, landmines, above all the wailing of children, infants, mothers-to-be, some carrying them in their frail arms, along with our brave vice personnel who, laid down their lives for their motherland, we looked up at our lion flag with lots of hope and prayers' that bore fruit on that blessed day in May 2009.
Tourists
Thousands of tourists visit the cradles of civilisation and the so-called wonders of the world. They ranged from the pyramids of Egypt built by the Pharaohs to bury themselves, the Taj Mahal, a memorial to a beloved queen, the Great Wall of China, an edifice of defence and the Colosseum of Rome, a blood soaked arena to entertain the blood thirsty Romans and their emperors.
Our sagacious Kings left no palaces and tombs. They bequeathed to their citizens and also to those on this land, living civilisation, belonging to all, the past, present and the future.
Water for their subjects to drink, bathe, irrigate their lands and to live in contentment and peace.
Again, in 2006 history repeated itself in the form of water, when the same life-giving water flowed through the sluice gates of MavilAru into the embrace of a part of our parched motherland and again into history. That glistening sheet of water, was to be the precursor of an operation that brought an end to a period of blood sweat, tears and despondency experienced by our brave combatants and many citizens. An era of death and destruction.
Then this same life-giving gift of nature cascaded into history as droplets of peace, that blossomed into a fountain of joy and tears.
Tears of thanksgiving and gratitude to a truly fearless leader, who, with his absolutely dedicated advisors in the guise of his own fraternal blood, the indomitable defence forces and last but not the least our most understanding citizens of our lovely lands who bore the trials and tribulations during that period with hope that made our dear lion flag to encompass the entire country.
Today we salute you. Yes, we can proudly say "politics apart'. This was a man.
Water enriched our civilisation. It was water again that was to be the spring of love for a vibrant, happy and peaceful people, whose smile and hospitality has made many a foreign diplomat, foreign executives of multinational companies and banks to linger on in our land.
While sipping a good cup of Ceylon Tea in the salubrious highlands of Lanka or the beaches in the South and the East.
Feed
To many foreign visitors, our people and our country is like no other. One group of researchers from Japan had counted 14 occasions where from birth to death and one year after, invite their friends, neighbours and kin to hotels and their homes and literaly feed them.
Only in Sri Lanka they had said. Even we haven't counted the number of times. They had. Then again, this group had been stopped at Avissawella by a group of people. Dusk.
They had been scared. Not the driver and the local escort. All had been served with eats, coffee and king coconuts. Payment had be smilingly declined.
It was the day after Vesak. A dansala. They had been told that it was in commemoration of the Gauthama Buddha's birth. Enlightenment and death. 'Only in Sri Lanka' they had said.
'Nowhere in the whole world are people stopped on the highway and treated with food and drink, No where, they had cried.
This group had preferred to take water from Kalawewa in small milk of magnesia bottles given by the Kalawewa Rest House Keeper to our precious stones.
We are taking a more valuable souvenir from your country" - they had said. Of this I can only say about ourselves - Cry my beloved country. Outsiders love you more than your own. Unforgettable happenings.
Milestone
When we step into another milestone in being a free and sovereign nation, let us first thank all those in whom we believe for looking after our motherland, and pray that all who had been led to tears be comforted through faith.
We beseech teachers for their blessings to our little island and pray that she will enjoy many more February fourths.