Tree climbing goats of Morocco
Did you know goats could climb trees?
I thought only monkeys and other apes climb trees.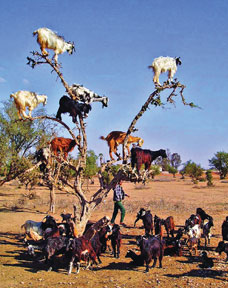 But believe it or not, in Morocco tree climbing goats are a common sight.
These Moroccan goats climb the Argan trees with incredible ease, to get to the delicious fruits that the locals use to make oil.
And it is unbelievable what you see in the photograph, these are not oversized birds sitting atop tree branches...but goats searching for food. Known as skilled navigators of treacherous mountain conditions, the native Tamri goats are so enticed by the berries of Argan trees that they have become adept at climbing the branches to reach their food.
You can find these goats along the western edge of Morocco near Essaouira, which is about 100 miles west of Marrakech.
Over time they have become not only able to climb trees but be downright adept at the art - they traipse across trees with a sure-footedness that is hard to imagine from a hoofed animal.
One even made it to the very top of the 17ft plant.
The goats climb them because they like to eat the fruit of the Argan tree, which is similar to an olive. Farmers actually follow the herds of goats as they move from tree to tree. Not because it is so strange to see goats on trees and the farmers like to point and stare, but because the fruit of the tree has a nut inside, which the goats can't digest, so they spit it up or excrete it which the farmers collect. The nut contains 1-3 kernels, which can be ground to make Argan oil used in cooking and cosmetics. This oil has been collected by the people of the region for hundreds of years, but like many wild and useful things these days, the Argan tree is slowly disappearing due to over-harvesting for the tree's wood and overgrazing by goats.
---
Smallest house in Brussels up for auction
It is called La plus petite maison de Bruxelles (The smallest house in Brussels) and is just 2.75 metres wide and has a ground floor only 1.75 metres across.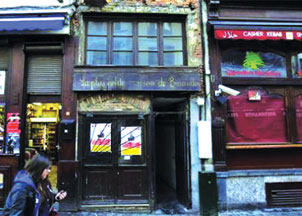 This dilapidated five-floor Belgian townhouse, just off the central Grand Place Square is about to go up for auction.
Claude Rotsart de Hertaing, a Brussels pensioner who works part-time showing prospective buyers around houses,says: "There's a lot of interest and there are also a lot of tourists who want to see it."
According to a Reuter report the Brussels house, squeezed between a pizzeria and a souvenir shop, has floors each of about 16 metres squared, apart from the ground floor which is even tighter as it has a pathway running to a courtyard down the side.
On one floor it has a potentially inviting fireplace, but you might singe your knees if you sat facing it on an armchair.
The house will be auctioned on February 6, starting at a price of 146,200 euros ($194,700).
---
Fans set beer snake record at Australia-Sri Lanka cricket match
It was a fantastic scene! And it came alive during Australia-Sri Lanka one day international at the Sydney Cricket Ground. It was a long snake but not a real one. It was a beer snake which made its way around the cricket ground. Rain stopped play and the umpiring process copped a flogging - but on the plus side, at least Australia-Sri Lanka one-day international gave rise to a record-breaking beer snake.
The sipping serpent made its way round the Sydney Cricket Ground during an evening break in play to mass cheers, with its two halves eventually being joined in a triumph of plastic engineering.
A spokesman for Cricket New South Wales said that while beer snakes - made by joining plastic cups together - were normally discouraged for safety reasons and to avoid annoying other spectators, this one was allowed because people were having so much fun.
"The atmosphere in the rain break was as good as it's ever been, people were having a good time," he said, adding that it was harmless entertainment, even if the "record" was not proven.