Exports up14% to US $ 7.34 b
Over 110 exporters and Chamber representatives were present at the fifth National Exporters' Forum in Colombo last week.
"According to the latest provisional EDB data, exports from January to August 2014 have increased by 14.03% to US $ 7.34 billion. As committed exporters, it is your valuable efforts that can help us, to reach our target of US $ 20 billion exports, by 2020," Industry and Commerce Minister Rishad Bathiudeen told the fifth National Exporters Forum.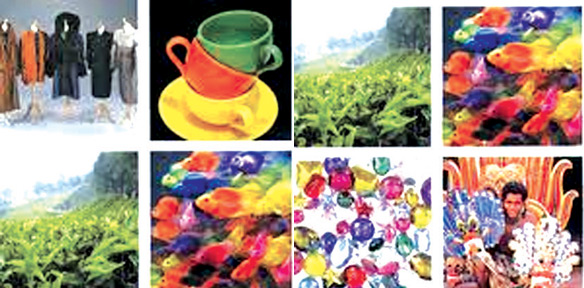 It was organised by the Export Development Board (EDB). Representatives from 50 companies and various Chambers, including Hayleys, Expolanka, Enrich Tea, Earnst and Young, DSI, Nestle, Acquamarine, and Printcare and chambers such as Ceylon Association of Ships' Agents, Ceylon Chamber of Commerce, National Chamber of Exporters, Planters Association, JAAF, Industry and Commerce Ministry Secretary Anura Siriwardene, EDB Chairman Bandula Egodage, EDB Director General Sujatha Weerakoone and top officials of the Industry and Commerce Ministry were also present.
"Exports in August 2014, increased by 2.4%, to US $ 978 million compared to US $955 million in July," Minister Bathiudeen said.
According to the latest provisional data, this increase is seen across all sectors. The increase in exports from January to August was led by agricultural products at US $ 1.778 billion, an increase of 3.18%, manufacturing - US $1.623 billion - 2.5%, apparel increasing by 0.65% to $ 3.24 billion, industrial products - US $5.343 - 0.91%, Ceylon Tea - US $ 1.07 billion an increase of 3.09%, coconut exports at US $356 million - 4.2%, and other export crops at $ 315 million, an increase of 4.7%.
Due to international rubber price decline, natural rubber exports showed a decline. Almost one fourth of issues listed in the Exporters' Forum agenda were resolved.
"The positive outcome is also a result of the approach adopted by the EDB and our collective engagement and efforts," he said.