Agri Minister visits Weligama SADP families
The Minister of Agriculture Mahinda Yapa Abeywardena recently visited several families enrolled under the Sustainable Agriculture Development Program (SADP) in Weligama to inspect the progress made since his previous visit.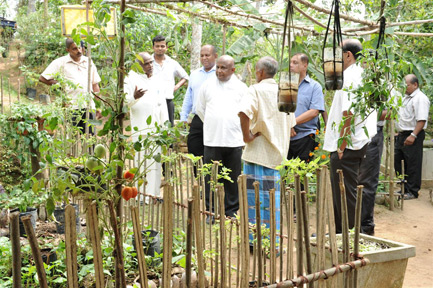 The Minister attended two meetings in Borala and Denipitiya, where he addressed beneficiaries of SADP and appreciated the program's contribution to improve the lives of the people.
He called upon the beneficiaries to make the most of SADP's offering. He reiterated the importance of organic agriculture and its role in the national agriculture development drive under programs such as Api Wawamu - Rata Nagamu and Divi Neguma.
"The Sustainable Agriculture Development Program promotes the use of organic agriculture practices by raising awareness of the effects of using chemical fertiliser and pesticides. I support the endeavour to encourage families to organically grow their food wherever possible, leading them towards financial independence while improving nutritional standards," the Minister said.
The Minister also distributed large water storage tanks to all 400 families in Borala and Denipitya.
In the Matara District, SADP has touched the lives of over 1,200 families in Malinboda, Hakmana, Kananke, Jayawickramapura, Borala and Denipitiya.
The volunteer families are enrolled in the program for 30 months during which they are introduced to home gardening and animal husbandry.
SADP guides beneficiaries to improve nutrition levels, generate livelihood and ultimately, achieve self-sustainability. It also empowers women, enrich the environment and maximise land use.
As the flagship CSR program of Ceylon Tobacco Company PLC (CTC), SADP is founded on the philosophy of: "helping those who are willing to help themselves". The program has become an integral factor in enhancing the lives of rural villagers living below the poverty line. Characteristics such as voluntary registration, no cash-handouts and the increment of input based on the commitment of beneficiaries to rise above the poverty level have made