Tourism and community development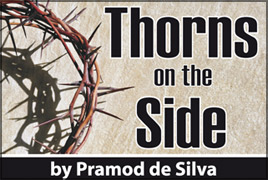 Tourism is one of the world's biggest industries, generating revenues over of US$ 1.3 trillion (2012 figures). Tourism today is a trillion-dollar industry involving the movement of more than one billion tourists across borders and another five to six billion travellers domestically in their own countries every year. We have all been tourists at one time or the other, since we all aspire to travel to new destinations and make new discoveries.
This is indeed why the UN has recognised the importance of tourism and dedicated a separate day for reminding ourselves about the importance of tourism and the contribution it makes to the world community. The word "community" is important in more ways than one, because tourism can and does benefit local communities in many ways. This year's World Tourism Day (WTD) which fell yesterday, focuses on this vital aspect of tourism.
The WTD's purpose is to foster awareness among the international community of the importance of tourism and its social, cultural, political and economic value. The event seeks to address global challenges outlined in the United Nations Millennium Development Goals and to highlight the contribution the tourism industry can make in reaching these goals.
Attention
This year's World Tourism Day (WTD) draws special attention to the role of tourism in contributing to one of the building blocks of a more sustainable future for all: Community development. This focus is in line with the global transition to the Sustainable Development Goals as the guiding principle promoted by the UN from 2015 and beyond.
This year's official celebrations took place in Guadalajara, Mexico and included a high-level Think Tank on the 2014 theme with the participation of tourism Ministers, international experts and policy makers in the field of tourism and development.
The timing of World Tourism Day is particularly appropriate in that it comes at the end of the high season in the northern hemisphere and the beginning of the season in the southern hemisphere, when tourism is of topical interest to hundreds of thousands of people worldwide.
As a sector representing 9 percent of global GDP, one in 11 jobs worldwide, and a key revenue sector for developing and emerging economies, tourism is widely acknowledged for its capacity to respond to global challenges.
Today, the business volume of tourism equals or even surpasses that of oil exports, food products or automobiles. The consolidation of tourism's economic influence has built up its social responsibility and political relevance, with a growing number of countries allocating a stronger mandate to tourism in economic and development policy planning.
With the special focus on the community, WTD 2014 highlights how tourism can be conducive to advancing sustainable development from the grassroots level. Community based tourism involves the local population in the decision making process according to local priorities.
The opportunity to become part of the tourism value chain actively involves host communities in the development process. Tourism thus becomes a catalyst of social cohesion, going beyond the immediate impact of job creation and its positive economic consequences and enhances, for instance, local governance capabilities which multiply the tourism impact even further. A very simple example can show the power of tourism. When a new hotel comes up in a given area, hundreds of employment opportunities are created for the local youth first in construction and later, in the hotel itself.
The hotel also sources many foods locally, which helps the local agri and livestock farmers. The hotel staff and the hotel itself need transport services, which can be provided by local drivers. Even the tuk-tuk operators can earn good money by ferrying tourists. Many other retail boutiques and service providers spring up in the area to cater to the hotel clientele and the staff. It is usually a win-win situation for the community, though there can be negative effects of over-commercialisation as well.
Moreover, tourism is all about people to people contact. Our community gets richer by interacting with those from another country or region. Similarly, when we go to another country, we experience its culture, its food, its ways of life. It is a discovery worth sharing. If you know the language(s) spoken in the country you are visiting, the experience will be still better. Even if you do not, you will come back richer for the travel experience.
Possibility
There is every possibility that you might not visit that country again in your lifetime due to monetary, time, work and other constraints, so it is better to think of every such trip as "once in a lifetime" experience. It is better to interact with the locals and contribute in some way towards their well-being, especially if you are visiting a developing country – even buying a handicraft at a local stall or taking a local taxi would do. Asia, where we live, is already a tourism hot spot with an immense variety of cultures, languages, customs and diverse countries. Asians are increasingly discovering the joys and wonders of their own continent – you could be visiting a totally new country in just three hours.
With affordable airfares given by low cost carriers, it is no longer a dream to fly to nearby countries and explore at your own pace. However, Asian countries must have more relaxed visa regulations to increase intra-Asian and international tourism on the lines of the Schengen visa system in the European Union which allows visitors to travel to almost all European countries on a single visa.
Tourism now has another dimension which is also linked to community development: environmental responsibility. When we travel from one country to another by plane (or any other means of transport), we add a significant quantity of CO2 to the air. We also tend to pollute the environments of the places and countries we visit wittingly or unwittingly – even throwing a toffee wrapper away carelessly has a price in terms of environmental protection. If we leave the environment as it is, that helps the local community immensely. As more people boldly go to places they have never been to, it becomes essential to save the world's environment for future generations.