Book Talk
Malinda Seneviratne :
A poet driven by an inner compulsion
This week Booktalk is dedicated to Malinda Seneviratne, a well-known poet who won the Gratiaen Prize in 2013 for his book of poetry 'Edges'.
"One of my greatest joys is poetry. I read it almost every day, and I've even taken a stab at writing some of my own from my younger days,"- Malinda Seneviratne.
It says that poetry begins when an emotion has found its thought and the thought has found words. When going through Malinda's work his style of writing proves this as it is such an independent style of writing and his work is uplifting and full of courage—it's about the natural world, but also about larger themes such as love, survival, gratitude and joy.
Seneviratne published his first book of poems, 'Epistles: 1984-1996' in 1999 on a grant from the Library Services Board. Likewise he also published 'Threads' in 2007, 'The Underside of Silence' in 2008, Stray Kites in 2010, 'Some texts are made of leaves' in 2011 and 'Open words are for love-letting' in 2012. Almost every work he submitted were short listed for Gratiaen Prize and his winning entry was 'Edges" published in 2013.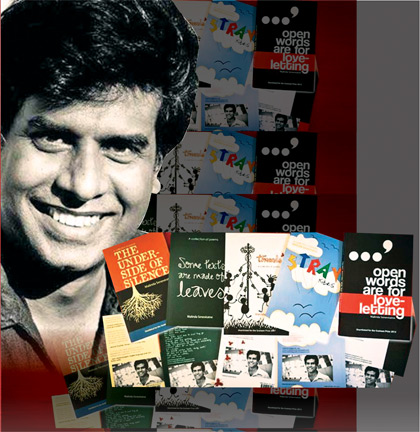 Excerpts of an interview Malinda Seneviratne had with Montage:
Question: What attracted you to become a writer?
Answer: I never planned to be a writer. I wanted to become an academic. I studied Sociology. I had to write. When I wandered into journalism about 15 years ago I didn't think of it as a career. I never saw myself as a writer or a literary person. The answer would be, therefore, 'nothing...it was an accident.'
Q: Why did you choose English as your language of expression?Do you write in Sinhala too?
A: Again, an accident. I pursued my higher studies in an English-speaking country. I had to write my papers in English. I studied in the Sinhala medium but in the Mathematics stream. I didn't have to write much in any language. But my parents were English honours graduates and I grew up in a bi-lingual environment. I worked in English newspapers and so I write in that language. I have written regularly for the Divaina and Rivira but that was a long time ago. I do write poetry in Sinhala, but not much -- I've mostly translated poetry from English to Sinhala.
Q: Which writers (local/international) influenced you most in your literary career?
A: Martin Wickremasinghe, Mahagama Sekera, Simon Navagaththegama, Gamini Seneviratne, Pablo Neruda, Gabriel Garcia Marquez, Jalal Ad Din Rumi and Sufi mystics, Nazim Hikmet, Faiz Ahmed Faiz, Rabindranath Tagore.
Inspiration
Q: How you get the inspiration to write?
A: One can be inspired by any number of things. It's hard to pin to down to this or that. Sometimes it's something someone said, sometimes something I witnessed or just random, strange, funny, profound juxtapositions.
Q: What is your process of writing?
A: I don't write stories. I write poetry. I also write articles to newspapers. The last is pretty straightforward. I know what I have to say and I just say it. The 'process' is made of three parts. Start, end and things between.
It matters little where I start. The place I start is a thread or a wrapping paper. Things are connected and what agitates the mind for articulation will come out or will be drawn out by that thread. Wrapping it up neatly pleases the eye. That's all.
Q: As you have a lot of influence from well-known local and international novelists, why do you still hesitate to write a novel?
A: I've tried. Maybe I've not tried hard enough. Maybe it's just sloth. Poetry is 'small'. It appeals to me because I've realized it's impossible to say everything or even a fraction of everything. A poem now, is a less pretentious form. Just a thought sliver. But there are stories I want to tell and some of these get told in what I write for newspapers and magazines. I think I haven't read enough novels.
Extracts from a failed attempt at writing a novel
She was adamant: 'No, that story should not be continued. It is too sad.'
He was slow between words and fluid in movement from thought to thought: 'Are there happy stories in this world? Isn't it true that we want joy, contentment and triumph as our constant companions but that they are just random travellers crossing our paths now and then?
They may stay awhile and chat but will move on. All those grand moments that we call magical, they are preceded and succeeded by things that are pretty shitty.'
'Still!'
'A fairy tale then; with a lived-happily-ever-after ending?'
'No. That's not right either. But what was this story about?'
'Do you want me to write the story or just trash it?'
'Don't write it. Just tell me what made you want to write it.'
'That would take away the charm of the story and if I ever finish it, you would not enjoy it. I mean, I don't know if it is a sad story or not, but if it was not you would find it quite flat even if it was the best novel ever written. And if it turned out to be sad, your eyes would not fill with tears. That's important you know.'
'I don't care. You won't write it. I don't want you to write it. And you shall not.'
'Are you my agent or something?'
'Do you want me to be?'
'No. I am not interested in publishing.'
'Then why write at all?'
'I don't know. It feels nice to write things down. Sometimes if I sat down to think something out I get nowhere, but when I write, write anything and not necessarily about what is bothering me, things that I earlier found to be complex or obscure unravel. Writing clears my throat.'
'How can writing clear your throat? Maybe you mean it clears your mind.'
'No, definitely not. I meant my throat. That's where things get stuck. Words, mostly.'
'You are funny.'
'I am a clown, didn't you know?'
'Tell me the story.'
'It's a short story.'
'So?'
'You will be disappointed and will ask me what the fuss was all about.'
'Can you stop foot-dragging and just tell?'
'That's the way I tell stories. I go round and round until people start wondering when I am going to get to the point. The point is there is no point. Stories are pointless things.'
'Ok, can you start this pointless story?'
'You are not letting me tell it.'
'Well, do you want to tell it?'
'Since you asked, yes.'
'Then can you start now?'
'You are hurrying me.'
'I am your audience and you have to find a way of capturing my attention and you are failing badly here.'
'I am the story-teller and I tell stories at my own pace or not at all. Sometimes the throat doesn't clear and you have to wait for the right moment.'
'What is the right moment?'
'Not now.'
'You are impossible.'
'Would you prefer me to be possible?'
That was a merciful conversation stopper.
Maybe someday, when I get out of journalism and have nothing to do but read, read and read, I'll have time to reflect, reflect and reflect. That might help me write, write and write. Who knows, a novel might come out of it. I won't guarantee a good one though. I would be, naturally, a novice.
Elements
Q. What are the main elements you consider the most in poetry writing?
A: I don't have a formula. The music matters to me. Naturally, rhythm too. You can have both and it still won't appeal if the thought is not fresh or if an old, known idea is not written in a new way. If its all this and makes me think, good. If it makes me stop breathing or put another way allows me to breathe then bingo!
Q: How long do you take to finish a book?
A: I never set out to write a book of poems. I just collected whatever I had written in the previous 12 months and submitted it to the Gratiaen Trust. Those collections were later published. So you could say, 'roughly one year'.
But I've written about a dozen books about terrorism, dealing with terrorism, the LTTE and other issues of national security. Most of these were texts that were accompanied by photographs. A couple of weeks or at most a month was what I took in each case.
Q: What is your favourite genre of writing?
A: When it comes to creative writing it's almost exclusively poetry.
Writing habits
Q: What are your writing habits?Are you writing on a computer?
A: Since I work in a newspaper I write a lot. Yes, always on a computer. I prefer writing at night, but deadlines don't always allow this. I like people to be around me if not in the same room then in the vicinity.
Q: Did all your poetry books go through an editing process?
A: Yes. I went through all the manuscripts. It was not exhaustive. I am too lazy to craft so most poems that got into the pages of my books were hardly touched after they were written. I tell myself I should spend more time crafting but life invariably intervenes and other things imprison me.
Q: You are a journalist does it keep you to become a poet?
A: Yes and no. Yes, because my profession is all about words. No, because it's one of those things that come under the category 'something-else-that-I-do'.
Q: What are the challenges you faced during the process of translating Nawagatthegama's 'Sansaranyaye Dadayakkaraya' and his unique writing style into English?
A: Nuance. Simon, it seemed to me, wrote in several layers of meaning. This was apparent in each sentence, each paragraph, each tiny and seemingly insignificant 'whatever' he described or commented on. It was a challenge to pick these up and write in such a way that I don't butcher the text, either by subtraction or by addition. Then of course there is the amazing 'lyricality' of Simon's language. It is hard to translate poetry and this was like translating an epic poem. Very tough.
Q: At the Gratiaen Awards 2013 you said the quality of English literature in Sri Lanka is far behind compared to Sinhala literature. Where does Sri Lankan English literature stand in the international arena? What is lacking to have it's own identity?
Identity
A: If you are referring to Sri Lankans writing in English or writers from Sri Lanka who write in English, then we have but a handful of authors to talk about. Michael Ondaatje and Shehan Karunatilleka have 'standing' and the works of others have been decently enough 'acclaimed'.
I don't know if it's good or bad or even possible for a corpus of literature associated in one way or another with a country to have 'it's own identity'.
But if you are asking about representing something that is uniquely 'Sri Lankan,' I think we have a long way to go when it comes to what's being written in English. That might have something to do with the distance that those who write in English (including those who live in Sri Lanka) keep or for other reasons have with things 'Sri Lankan'.
Most of what we get to read does little more than surface-scratching and as such reads as caricature or moves in a small socio-cultural-political cocoon which I would hesitate to call 'Sri Lankan'.
Q: Living in the e-book era, what is your preferred mode of reading? e-book or physical book and why?
A: I've never read e-books. Old fashioned, may be. Or just plain e-challenged.
Q: Why do you write?
A: It helps clear my throat. 'Throat?' you might ask. Well, here's a small part of a failed attempt at a novel (it didn't proceed beyond half a dozen pages).