NEWS IN Brief
Presidential Export Awards
'Containers India 2016'
Containers India, is a forum for major Indian stakeholders of the container supply chain to come together and debate critical issues affecting the time and cost effective transportation of containerised cargo from shipper to destination.
It was held in Mumbai on August 12 with many international and Indian speakers and was organised by Maritime Gateway, one of India's leading maritime monthly business magazines covering ports, shipping and logistics sectors in India.
The three major areas of discussion were: * Container market outlook * New opportunities and destinations* Coastal movement of containers.
Rohan Masakorala who has over 25 years of experience and a key speaker in many global maritime conferences made a presentation on the subject 'Sri Lanka: How is it transforming into South Asia's logistics hub?' under the session new opportunities and destinations.
The South Asia region is poised to increase its activities related to maritime, shipping and logistics and an inclusive regional approach is now taking place as the major maritime countries like India, Sri Lanka, Pakistan and Bangladesh are having collaborative efforts to uplift the status quo of its ports and shipping to develop greater logistics efficiency to support the trade demands as more FDI are expected to the region over the next two decades.
---
Colombo hosts int'l maritime confab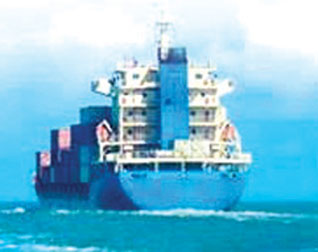 The South Asia Maritime Forum which will be opened on September 21 at Galadari Hotel, will be the launch pad of the second Colombo International Maritime Conference (CIMC).
The CIMC which was launched last year with the support of the government will be the premier maritime conference in South Asia as the island is an ideal and a central location in the Indian subcontinent to have MICE tourism as Singapore is for East Asia.
President Maithripala Sirisena will open the Sri Lanka Maritime Week and the CIMC by Prime Minister, Ranil Wickramasinghe on September 22.
The South Asia Maritime forum will have speakers from India and other regional countries and is due to be opened by Y.K Sinha, High Commissioner of India to Sri Lanka who strongly supported the first CIMC last year. The chairman of the CIMC is Minister of Ports and Shipping Arjuna Ranatunga and the patron is the Speaker of Parliament. Karu Jayasuriya.
---
Apexaura distributors visit Vietnam
Apexaura Int (Pvt) Ltd, a organic food supplement company, offered its 23 direct selling agents a trip to Vietnam in recognition of their services. Apexaura was commissioned in 2014 to provide Sri Lankan and global consumers with organic herbal food products by employing modern technological resources in manufacturing and distribution.
---
Ceylinco Life, Best Life Insurer in SL – World Finance
Ceylinco Life has been declared the 'Best Life Insurer in Sri Lanka' for a third consecutive year, following an in-depth assessment of key performance indicators by World Finance, the UK-based international publication.
"These are indicators that provide an accurate picture of the quality of products and service as well as the operational soundness of a life insurance company," Ceylinco Life Managing Director/CEO, R. Renganathan said. "Such a rigorous examination of performance by independent luminaries is good for any company. We are delighted not only to pass with flying colours, but to be adjudged the best in Sri Lanka for a third year running," he said.
He said the Word Finance accolade while being an important benchmark for Ceylinco Life, is also a strong endorsement of the strength and stability of the company that will carry weight with existing and prospective policyholders. The magazine's panel of international experts analysed multiple aspects of sector-specific performance in FY 2015 before naming its country winners for 2016.
Among the areas looked at were average time to underwrite and to issue a policy; how risk exposure is assessed and accommodated; achievements in the 12 months reviewed; how appropriate cover is ensured for new and existing clients; Customer Retention Rate; Average Time in Claim Settlement;
---
People's Leasing wins silver award
People's Leasing and Finance PLC won a Silver award at the National HR Conference 2016 at the BMICH recently . The event was organized by the IPM (Institute of Personal Management).
PLC received the Silver award in recognition of its best HR practices focusing employees who are the major force that adds value to sustainability of the company.
CEO/GM, People's Leasing, D. P. Kumarage said, "We appraise and recognize our employees' services, train and develop them continuously with the object of making PLC one of the best companies to work in."
"The success PLC has earned over the years was due to the unyielding efforts of its employees and the success story of PLC goes hand-in-hand with the personal and professional development of our employees. This National HR Silver Award is an endorsement by IPM towards PLC's best HR practices and it is also great encouragement for us to enhance and sustain our best HR practices," he said.
---
Batticaloa gets second ComBank branch
The Commercial Bank of Ceylon opened a second branch at in Batticaloa, to better serve customers in this important east coast city.
It was opened by the Managing Director/Chief Executive Officer the Bank, Jegan Durairatnam.
The branch offers all the services available at MiniCom branches, and has its own Automated Teller Machine. The opening was followed by the commissioning of a standalone ATM of Commercial Bank at the Batticaloa Railway Station. Commercial Bank's Chief Operating Officer S. Renganathan was also present.
---
Melsta Regal Finance unveils two new products
Melsta Regal Finance marked another milestone on its four year journey with the launch of the Melsta Debit Card and Melsta Online, two new service offerings, Amitha Lal Gooneratne, Chairman, Melsta Regal Finance Ltd., said.
Melsta Regal has launched these new suite of services understanding the need to enhance customer experience and convenience, complementing the busy lifestyles of its customers.
The company's new innovative solutions incorporate modern security enhancements available to all clients at their fingertips, helping them meet all financial needs.
"Our primary goal is to provide the most innovative solutions to our customers with the aim of generating the best possible customer experience.
We believe that it is important to anticipate our customers' needs and wants becoming a true differentiator in the market offering great flexibility and choice," he said.
---
BOI approves veterinary project
A leading veterinary pharmaceutical and feed additives company signed agreement with Sri Lanka's apex investment promotion body, the Board of Investment (BOI), to invest over 5 million USD for export-oriented projects under the name of Farmchemie Manufacturers (Pvt) Ltd.
Farmchemie is determined to cater the potential market in Indian subcontinent and African countries and the company is expected to grow by US $ 2.5 million by 2020.