Coupons and discounts app for tech savvy shoppers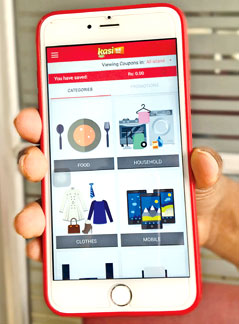 KasiWasi, the country's newest and technologically innovative and efficient mobile app for shoppers, recently launched its services to offer consumers the convenience of obtaining coupons and discounts via their mobile phone, for a variety of categories including shopping, dining, entertainment and a countless number of other services.
"The fun and user-friendly next generation mobile app created by G-NEE Networkz Pvt Ltd. is the very first of its kind to be introduced in Sri Lanka, and is likely to transform consumer habits through its digitally sophisticated service. Through a database of a multitude of vendors, KasiWasi will alert customers on the various coupons and discounts available for a wide range of goods and services according to customer preferences. What's more, the KasiWasi mobile app will enable vendors to promote and sell their services on one effective and technologically efficient platform, reducing the need for costly SMS marketing and social media campaigns" commented, Deepak Ramnani, CEO of G-NEENetworkz.
Further speaking, Mr. Ramnani said, "Consumers will enjoy a myriad of benefits such as competitive offers that will allow them to save thousands of rupees, and the ability to customize notifications with custom subscription alert settings where they receive the notifications they want while allowing them the option to ignore the rest. Furthermore, the categorised easy-to-use app will also permit users to browse among hundreds of offers and coupons, and based on their location consumers could pick the stores that will be running live promotions and coupons in their proximity."
KasiWasi benefits to vendors include the ability to access a larger market, interact with customers directly and the ability to save on advertising and marketing fees. Moreover, the mobile app will also allow vendors to offer digital personalized customer coupons which will increase client engagement, client retention and brand loyalty, leading to repeated sales.