Silvermill grabs five awards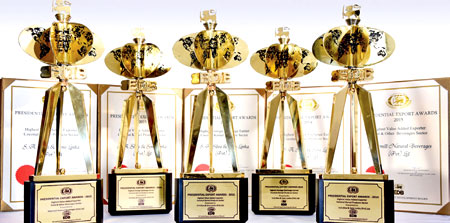 Silvermill Group of Companies won a total of 5 presidential export awards at a gala event held on 9th August 2016. In attendance at this occasion, organized by Export Development Board of Sri Lanka, was His Excellency President Maithripala Sirisena and Hon. Navin Dissanayake, Minister of Plantation Industries.
S.A.Silva& Sons Lanka (Pvt) Ltd, the market leader in manufacture and export of desiccated coconut won 4 awards as the Highest Foreign Exchange Earner and Highest Value Added Exporter in the coconut kernel category for consecutive years 2014 and 2015. Thereafter, Silvermill Natural Beverages (Pvt) Ltd, who pioneered manufacture of value added coconut water in Tetra packs, was recognized as the Highest Value Added Exporter in the Food and other Beverages sector for 2015.
Silvermill, with its origins dating back to 1920, is one of the oldest coconut companies in the world. The Group has firmly placed Sri Lanka on the world map as a reliable source of high quality coconut products. These achievements were obtained despite several obstacles -a challenging environment of inconsistent raw material (coconut) supplies, high coconut prices verses other competing origins such as the Philippines and Indonesia caused by imposition of excessive import duties on edible oils, and outdated bureaucracy which does not promote a culture of value addition.