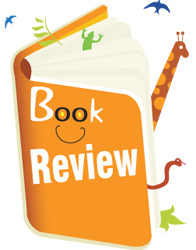 Dear Junior readers,
The Junior Observer launches 'Junior Readers' Club' to which we invite all you Junior Readers to join up! The Junior Readers' Club will hold activities and competitions to encourage you to read and read and read more, for fun and to learn. Do join in!
One activity will be to introduce books for you to read. We will introduce a book from Vijitha Yapa Bookshop and tell you about it in our 'Book Review'. You are also invited to write in and tell us about a book you have read and liked. Write up to 150 words and email your entries to [email protected] or post them to Lake House, 35, D.R. Wijewardane Mawatha, Colombo 10.
NOTE: Vijitha Yapa Bookshop will give away prizes for a write-up on a book available in their bookshops. The best book review will receive a book as first prize, and the second will be a gift voucher from Vijitha Yapa Bookshop. Contact 2429237 to collect your gifts.
---
Mystery of the supernatural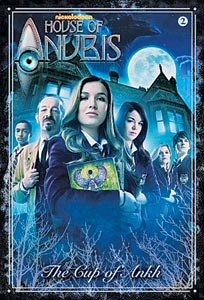 The Cup of Ankh by Peter McGrath is a mystery that involves eight children in a boarding school in England. The boarding school Anubis House is at the centre of the mystery where pieces of the Cup of Ankh which promises immortality is hidden.
There are two villains, Rufus and Victor who want the Cup of Ankh and the magic potion Elixir of Life. The novel has a supernatural twist where only the 'Chosen One' can put the pieces of the Cup together.
Another dramatic event in the novel is when their classmate Joy suddenly disappears. The plot thickens when the person they thought was the 'Chosen One' is unable to assemble the Cup. The youngsters will have to find the 'Chosen One' and locate the missing pieces of the Cup while encountering a ghost too, along the way!
The children form a secret society called the Sibuna Club to solve the mystery of the Cup of Ankh. The Secret Society and sinister rituals are also a part of their journey which adds intrigue to the novel. The novel is full of puzzles, missing clues and strange happenings. It is an open-ended novel which leaves more questions to be answered when the reader reaches the end.
---
[First Price]
The boy with a scar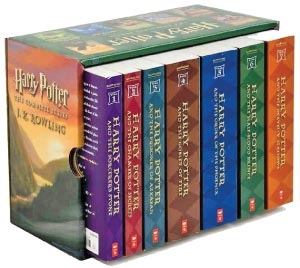 I have read many books in my life and I have many books yet to read. Out of all the books Harry Potter was the book that helped me to love reading. Harry Potter was born in J.K. Rowling's mind, on her way to England in a train. It's all about a magical world where wizards and witches live. There are seven stories in the series and I have read all of them more than once. The three main characters are Harry, Ron and Hermione, and the villain of the novel is Lord Voldemort.
The story is about how Harry saves himself and the world from the evil Voldemort. I love Harry Potter because he's strong, intelligent and sometimes funny too. He's like a hero in my life who actually never exists. Hermione and Ron have an equal role like Harry and do all the stupidest things together.
When the seventh book was published and J.K. Rowling announced that it was the last book, my eyes filled with tears. I couldn't believe that it was the end to the Harry Potter series. As J.K. Rowling said, "If you don't like to read, you haven't found the right book". I have found the right book.
---
[Second Price]
Black Beauty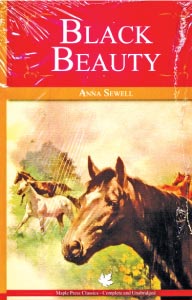 My favourite book is Black Beauty. The writer Anna Sewell has made a huge effort in writing Black Beauty which tells us about treating animals especially horses. At that time horses were used as the main source of transportation in Europe. People selected horses based on their cast and creed to show the public their nobility. But some people treated them well while others brutally. Mr. Gordon was a person who treated horses very well. Black Beauty was one horse which grows up with Mr. Gordon.
He had many friends there, like Ginger, Merry Legs, Sir Oliver and Justice. John and James helped Mr. Gordon to take care of these animals well. As time passed, everybody had to face hardships, and they were becoming weak and miserable. Black Beauty too had to face that common phenomenon. His master Gordon went to Switzerland and he had to face a dark period in his life. Finally he went to a good master and he lived there happily for the rest of his life.