PM, Ministers visit Guanzhou City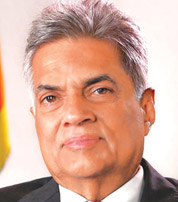 Prime Minister Ranil Wickremesinghe and his delegation, left for Guanzhou, the capital and the largest city of Chinaís Guandong province.
A senior spokesman of the government said the Prime Ministerís visit to China would be important to Sri Lanka on the business and economic front. Ministers Anura Priyadarshana Yapa and Patali Champika Ranawaka also joined the Prime Minister in the visit.
Guangzhou is the third largest city in China, after Beijing and Shanghai, with a population of 13,080,500 and it forms part of one of the most populous metropolitan agglomerations in the world. Guangzhou is also identified as a Beta global city, speaking volumes of his sophisticated city planning and economic growth.
The Prime Ministerís visit to China takes places in a context where Sri Lanka is making grand plans for the western province megapolis programme. Before leaving for China, Western region megapolis planning project Chairman Ajita de Costa told the Sunday Observer that, during the visit, they would closely observe the manner in which China had planned and developed the Guanzhou city.
He said it would obviously help Sri Lankaís plans for the much talked about Western region megapolis. Another important aspect would be how Sri Lanka wants to integrate the Colombo Port (Financial) City into the much larger megapolis plan.
Against this backdrop, the Prime Ministerís five-day visit to China has drawn a lot of attention from business and financial circles.