URBAN SPACE
Colombo city and its landmark buildings first became the subjects of Sanjeewee Senevirathna's watercolour paintings, about a decade ago with the"REFLECTIVE LANDMARKS" watercolour exhibition held in 2008.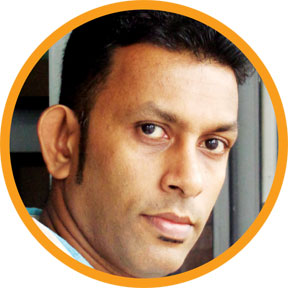 'Since 2008 though it was sort of a silent era, I would like to acquaint it as an "Explorative Silence". Because, during the period, my effort was to explore my space and usage in watercolour medium. As a result, I created my experimental work studying the modern work of International watercolour trends and was able to represent quite a few International watercolourexhibitions. I was privileged to be exhibited with international watercolour artists', says Sanjeewee.
'I had the opportunity to participate at several selected visual art exhibitions locally. My present work is subjected on 'The living space of human in Urbanization'. It's about the man and his own creations as buildings, vehicles, construction, various consumer goods and non-human constructed things as The Sea, Land and Trees. It's all about these movable and immovable units.
'Buildings are the units that fill the space between men. Sometimes it builds human relationships, and sometimes breaks them down.
'But during all the time in the past, present and future, buildings have stood the closest to the human being.
The environment which doesn't care about human reactions continues with its climatic changes and environmental processes as usual,' says the artist.
"URBAN SPACE" is the combination of all these watercolour mediumistic cross sections.