'Our Lady of Good Health' celebrates bi-centennial jubilee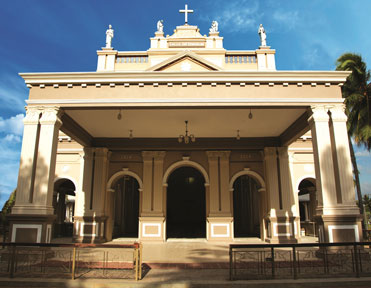 'Our Lady of Good Health Parish, Mabole', celebrates its 200-year jubilee on August 12. The Holy Mass, under the theme of ' A community rich in their faith and participation,' will be conducted by His Eminence Cardinal Malcolm Ranjith, Archbishop of Colombo, at the newly renovated parish.
In 1816, the statue of Our Lady of Good Health, was donated by a Portuguese woman - 'Maithree Nona' - shortly before leaving the island as a token of goodwill towards the community.
In preparation for the 200 bi-centennial celebrations later this year, the Parish Pastoral Council together with its partners have planned and executed several infrastructure development projects during the past year. This includes, the canopy to the main church building - which was opened and blessed by the Rev. Cardinal Malcolm Ranjith, expansion of the mission house, stations of the Way of the Cross surrounding the church, resurfacing the approach roads to the Church, and renovation of the Grotto for Our Lady of Fatima. The area around the Church has undergone a massive landscaping transformation, particular significance given to a 'Well'. Many individuals with various afflictions frequent to bathe in the waters of the well, which they believe to possess healing properties.
The cost of renovation is an estimated Rs 17 million, and construction is well on the way. Donations are still welcome.