Vijaya Nandasiri:
Immortal Prince of the Stage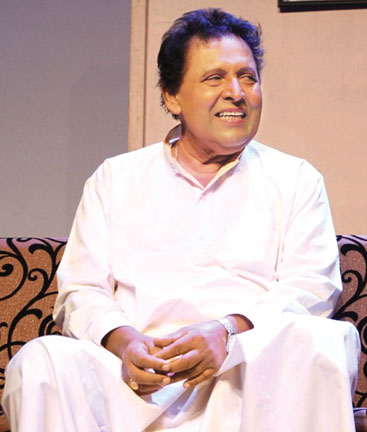 They say that politicians are great actors themselves. Only a few thespians can play the role of a politician with consummate ease. Vijaya Nandasiri, who passed away unexpectedly on Monday, was one such actor who was born to play the role of a politician. He portrayed the typical Sri Lankan politician with aplomb in the hit TV series A-Thuma. Many politicians did not like his unflattering and unflinchingly accurate portrayal, but they all agreed on one thing – Vijaya Nandasiri was an actor's actor.
Nandasiri was at home in all media and in all types of roles. The stage was his first love, in fact, the day before he died he took to the stage in Kurunegala for two sell-out performances of the relatively new stage play Aluth Horek Oney (A New Crook is Needed). While his wife Devika Mihirani beat him to the teledrama field with her unassuming portrayal of a village girl in Dimuthu Muthu (Glistening Pearls), the first-ever local teledrama, he too conquered the small screen in later years. Coincidentally, it was the stage that brought them together, they both acted in the famous Subha Saha Yasa stage drama. Nonawaruni Mahathwaruni and Yes Boss were two teledramas that cemented his reputation as a highly versatile thespian.
He was no stranger to the big screen either. His big screen acting debut was playing the role of a blind youth in K.A.W. Perera's Nedeyo (Relatives, 1976) which popularized the Sinhala song Senasum Susuman Paweela. He then excelled in movies such as Bangali Walalu, Yasa Isuru, Sandakada Pahana, Ko Mark No Mark, Rail Paara, King Hunther, Bahubhoothayo and Sasara.
Reputation

What surprised everyone was the absolute ease with which he transformed from a serious character to a comedian, on demand and instantly. In fact, in the latter years of his life he developed a reputation for stellar comedy roles, the highlight of which was his turn as marriage broker Mangala Jaya in the smash hit "Sikuru Hathey".
This movie was a laugh-a-second fest thanks to Nandasiri's performance which incidentally garnered him the Best Actor award at many film fests. The recent movie "Suhada Koka" (about a politician called Minister Rajamanthri, naturally) was also well received by the public. Be it TV, stage or cinema, a comedy role by Nandasiri guaranteed a ton of laughter.
However, there is one role that will live on with his name – Prince Maname of Prof. Ediriweera Sarachchandra's immortal stage play "Maname". Having first played the iconic and difficult role in the late 1960s, he took to the stage as Maname for the next 27 years (more than 1,000 appearances). This was no easy task, but Nandasiri took it in his stride. Mrs. Lalitha Sarachchandra acknowledged in a TV interview at Nandasiri's funeral that, of the 15 or so actors who have played Maname over the years, Nandasiri easily stood out. For most theatre lovers, Vijaya Nandasiri and Prince Maname were one and the same.
Nandasiri laid the foundation for his acting career as a student of the Maharagama Vidyakara Vidyalaya, where he acted in several stage plays including a school version of Maname at the school's Sri Rewatha auditorium. 'Vidura Diva' was the first drama he acted in after leaving school.
A little known fact is that Nandasiri was a good orator at school which perhaps helped him later on in life to portray politicians who love to hog the microphone for hours. He was also a good singer, another attribute of a multi-talented stage actor.
Versatile
Among the other dramas that benefitted from his versatile acting were: Rankanda, Naribena, Jasaya Saha Lenchina, Bakmaha Akunu, Thahanchi and Bakathapas, Kontharaya, Wahalak Nethi Geyak, Kusa Pabawathie, Suba Saha Yasa, Ekaadhipathi, Tharawo Igilethi, Kuweni, Hunuwataye Kathawa, Bedde Goranaduwa, Sinhabahu, Mahasara and Rathnawali. In recent times, he brought the house down with his performance in "Balloth Ekka Be", a satirical look at modern society. Although he was 72 and his acting career reached 50 years this year, he never thought about retiring. The stage was his life, literally. Despite his busy schedule, he always had time for his family and his fans. In typical Vijaya Nandasiri style, his generosity has extended even beyond his death. Someone, somewhere, hopefully a fan of his work, will now see the world for the first time with his precious eyes. That was the Vijaya Nandasiri we knew and loved – a man who loved the arts and above all, humanity itself.