Memoirs of Sirima R.D.Bandaranaike :
Insurgency April 1971
Continued from Sunday April 24
The inmates in the camps were given facilities to study and even sit for exams. Others were taught handicrafts. As they were rehabilitated they were released in batches. Those who were in employment in government jobs, most of them were given back their jobs.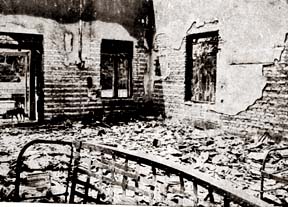 Interior of Warakapola police station after an insurgent attack.
We realised that most of these youth were misled and so it made it easier to rehabilitate. This was the worst crisis my government faced and also the country.
The first fortnight was critical because violence broke out in seven of the nine provinces. It was virtually a civil war. Our security forces were inadequate to meet the situation. We were very short of military equipment.
Some of the police stations were marooned by heavy attacks from insurgents. Food and ammunition had to be sent to them. We were short of helicopters to take supplies to them. I had to make a request to the Prime Minister of India Mrs. Indhira Gandhi and Prime Minister Bhutto of Pakistan who responded promptly and sent us the necessary helicopters with their crews. Mrs. Gandhi also sent in some ships to assist our Navy to guard the coast to prevent the possibility of arms from being smuggled into the country. There was a possibility.
People still marvel as to how we were able to repel such a fierce attack spread in such a wide area without sufficient men and material to face up to it. I wish to pay a tribute to the service chiefs and their men in the army, navy, air-force and police who worked round the clock almost and performed their duties ungrudgingly with one purpose, to save the democratic institutions and the country and the people. I will not be fair in my duty if I didn't make mention of those public servants who also worked untiringly to help the government in the crisis.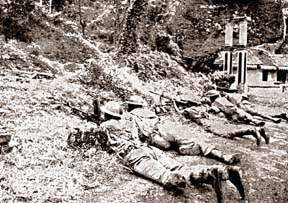 Army in action near a temple. Pix. from "The JVP 1969-1989 by A.C. Alles."
During this period the Cabinet of Ministers met and whatever decisions taken were collective. I must mention here the unstinted and valuable advice and support I got from Felix Bandaranaike.
More than anything else it was the team spirit that was displayed by all concerned that helped me most. The armed services gave leadership when it was necessary. And of course decisions were taken quickly without dilly dallying, however tough and hard they were implemented without hesitation.
The fact that we were able to repel it in such a short time was a triumph for democracy. Here I must mention that we had the public behind. Irrespective of party affiliation they rallied round. It has been repeatedly stated by our opponents that 20,000 youth were killed by the armed forces during this period. Some even were wicked enough to say that I gave the orders to kill 20,000 Sinhala, Buddhist youth. In fact I sued one newspaper, Lake House on that. The judgement was in my favour.
I would like to say for record purposes that there were highly exaggerated figures in order to discredit me. The official figure is less than 2000 taking a total of those killed by the security forces and by the insurgents. Except for making wild allegations those making these have not been able to prove with facts and figures.
It is relevant to mention here that this movement had been in existence since 1967. A report submitted to the government of the day, the UNP led by Dudley Senanayake by John Attygalle DIG CID at the time had warned the Government about the clandestine activities of a certain group of youth.
If early action had been taken then, by the authorities the situation could have been averted.
The hardcore terrorists were tried by a Bench of Five Judges and some found guilty and jailed.
In 1977 as soon as J.R. Jayawardene became Prime Minister one of his first acts was to release those jailed for murder, arson and plotting to overthrow the duly elected government.
This gave an indication to the people what the attitude of the UNP was to a set of fellows who tried to overthrow the government. During the election campaign in 1977 some of the UNP leaders shed crocodile tears on their behalf. I would like to mention here about a very unfortunate incident that took place at Kataragama. A young damsel by the name of Premawathie Manamperi had been taken by the police from her home and tortured including rape and finally killed in a most inhuman and brutal manner.
This was done by the security personnel who were put in charge of Kataragama.
The chief officer was a volunteer corps person. He had been instrumental in committing this crime. This incident was brought to my notice by some of our party supporters in the area. I immediately sent a team of police officers from Colombo to inquire and report to me and their report was that the information we received was correct.
I had no option but to take action against the offenders. That is the Army officer and some police personnel. Legal action was taken against them. They were tried in Court and found guilty and convicted to jail sentences. But the UNP during the '77 election campaign carried a vicious campaign against me, accusing me of getting Manamperi killed. Much crocodile tears were shed on election platforms.
They had probably forgotten that J.R. Jayawardene then Leader of the Opposition had in Parliament had compliment me for the manner I handled the situation.
When the insurgency broke out the government was short of arms and equipment.
We had to appeal for foreign assistance. Several countries, India, Pakistan, China, Yugoslavia, USA, UK and USSR came to our assistance. Their assistance was very valuable and timely. My thanks to all those countries that helped us at the time of need.
Within a couple of weeks we were able to contain the violence and bring the country back to normal.
Concluded
Reproduced with the kind permission of ANCL Editorial Consultant Malalgoda Bandutilleke custodian of the manuscript.